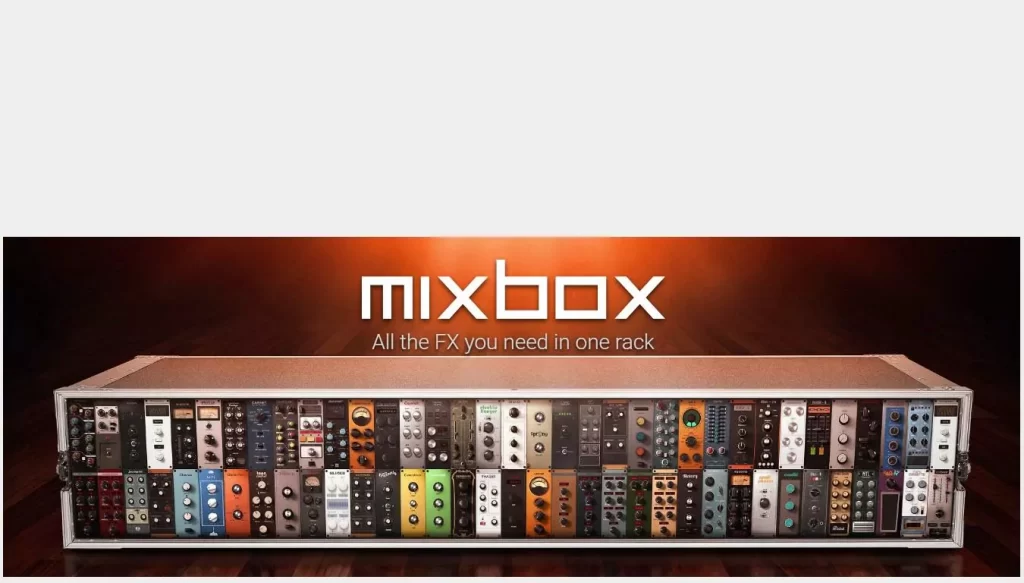 MixBox combines 70 award-winning mixing processors and creative effects in a convenient 500-series style plug-in. Create, compare and save your own channel strips or multi-effect chains, or choose from over 600 presets to jump-start your creativity. In your favorite DAW or offline, MixBox combines a wide range of effects and a powerful workflow to make your mixes even more powerful.
Content
The MixBox Modeling
Center includes ultra-accurate digital models of some of history's most iconic mixing devices such as the LA2A, 1176, 1073 EQs, 4000 Series channel strips, as well as creative models such as amp distortion and even tape saturation.
Get your dream gear collection right at your fingertips, including all of the gear and special effects below.
Amplifier (9)
American Vintage T, British Tube Lead, Cabinet, Flexi Amp, Jazz Amp 120, Modern Tube Lead, Preamp, SVT Classic, Tone Control.
Channel strip (4) Channel strip
, EQ 81, EQ Comp, EQ-PA.
Delay (3)
Digital delay, reverb delay, tape echo.
Distortion (5)
Crusher, Distortion, Lo-fi, Overdrive, Overscream.
Dynamics (8)
Black 76, British Dynamics, Bus Compressor, Compressor, De-Esser, Limiter, Model 670, White 2A.
EQ (4)
British EQ, PG EQ, Parametric EQ, Vintage EQ-1A.
Filter (10)
Env Filter, Filter Formant, Filter Phaser, Filter-C, Filter-M, Filter-O, Filter-R, LFO Filter, Multi Filter, Wah 47.
Modulation (17)
AM Modulator, AutoPan, Chorus, Chorus C1, Electric Flanger, Ensemble, Env Flanger, Flanger, FM Modulator, Multi Chorus, Opto Tremolo, Phaser, Rotary Speaker, Slicer, Small Phazer, Tremolo, Uni-V.
Reverb (14)
Ambience, ConvoRoom, Digital Reverb, Hall Reverb, Inverse Reverb, Plate Reverb, Room Reverb, Spring Reverb, Stereo Imager, Sunset Chamber, Sunset Iso Booth., Sunset Live Room, Sunset Plates, Sunset Spring.
Saturation (3)
Phonograph, Saturator-X, Cassette.