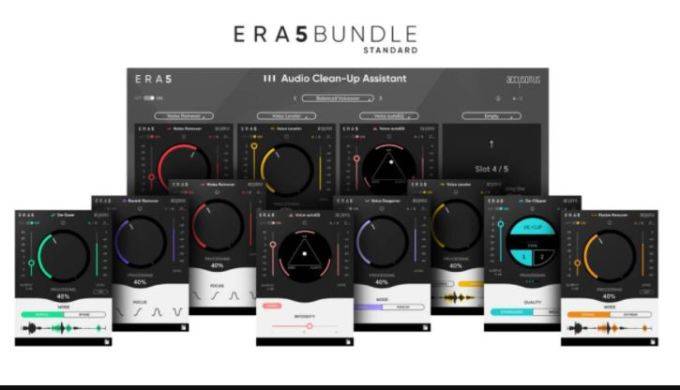 Accusonus Inc., a company specializing in creating music programs based on artificial intelligence, has released a set of plug-ins for the restoration of audio Accusonus ERA Bundle.
ERA Bundle (Enhancement and Repair of Audio) is a set of easy-to-use VST / AAX plug-ins for processing, recovering and repairing problem audio signal. The ERA Bundle includes:
AudioCleanUpAssistant
DeClipper
DeEsser
DeEsserPro
MouthDeClicker
NoiseRemover
NoiseRemoverPro
PlosiveRemover
ReverbRemover
ReverbRemoverPro
RoomToneMatch
VoiceAutoEQ
Voice Changer
VoiceDeepener
VoiceLeveler
According to Accusonus, the main goal they pursued with the development of the ERA Bundle was to create simple, fast and accessible audio processing tools for everyone. The plugins feature an intuitive graphical user interface with high resolution Retina displays and are built around the "Single Knob" concept. Thanks to this, there is nothing superfluous in the ERA Bundle plugin interface – just one or two controls.
Plugin Description
Noise Remover Pro
is a powerful yet intuitive tool for professionals. Based on improved, patented accusonus algorithms, Noise Remover Pro offers stunning results without artifacts, no need to search for noise profiles or tweak a ton of parameters. Enjoy the ease of use of our smart technology, while maintaining the flexibility to dig deeper and fix more complex recordings. In most cases, all you have to do is just turn the big white dial! But Noise Remover Pro also allows for complex multiband processing. Carefully selected presets are also available, so you can speed up your workflow even further! The ERA Bundle Pro comes with an even faster alternative noise reduction solution: our automatic one-button squelch.
ERA Reverb Remover Pro

Reverb is one of the most difficult audio problems to deal with when publishing. But after years of extensive research into room acoustics and psychoacoustics, the new Reverb Remover Pro will help you achieve exceptional results in record time. The unique customization and UX design of our Reverb Remover Pro will enhance your workflow. The large center knob helps you get the job done in seconds, but you can also dive into it and fine-tune settings for surgical precision when time permits. Watch and listen to what is removed with the DIFF button. Use smart presets to edit faster and dig into specific frequency ranges for more accurate and detailed results. The smart single-dial version of Reverb Remover Pro is also part of the ERA Bundle Pro. It will be your preferred tool for even faster editing.
ERA De-Esser Pro

Getting rid of those noisy high frequency consonants can be a tedious and time-consuming task. This is why we developed De-Esser Pro, a fast and powerful tool that requires minimal effort, yet delivers transparent results. It offers highly accurate de-essing and customizable sound recovery features. Based on accusonus's many patented algorithms, De-Esser Pro simply works and can effectively reduce hiss in audio recordings. Watch how the software automatically detects the letters S in your waveform and fix the problem by turning the dial! ERA De-Esser Pro offers additional controls for deeper processing and more natural sounding. The ERA De-Esser is a single-dial alternative for even faster de-essering that's also included in the Pro Bundle.
ERA Room Tone Match
 (Available only as an AudioSuite plug-in for Avid Pro Tools)
Awkward muted parts and inconsistent room tones when editing dialog can be very distracting. ERA Room Tone Match detects the background environment under the sound of speech and makes it easy to "stitch" and align different beds. We may not always be able to "read the room", but our new version of Room Tone Match is for sure! Easily recreate your sound environment and retain the natural feel of the stage without tedious workarounds!
ERA Voice AutoEQ
Eliminate haze and loudness in an instant, making your dialogue more expressive. Voice AutoEQ is a revolutionary new plugin. It listens for dialogues and allows you to improve them in real time. Enhance the clarity of your voice that is not possible with conventional equalizers. Use the circular cursor to navigate within the triangle and find the right balance between air, body and clarity. Make the dialogue sound through the mix!
ERA Voice Deepener
When recording, the voice of each actor sounds more subtle and shrill. Voice Deepener will make your talent's voice sound more like what he hears himself, and not like the sound in the recordings. Get the "movie trailer" effect with one disc. Make your conversations deeper and more soothing in seconds. Create posts that seduce, convince and hook everyone in literally seconds.
ERA Mouth De-Clicker
Extraneous noise from the mouth during the pronunciation of speech spoils the sound. It takes a long time to fix it, as does re-recording. You can use Mouth De-Clicker instead; it highlights all mouth sounds, lip slaps and spit crackles on your track. Then you can quickly remove them with a simple interface. Remove clicks quickly and efficiently, allowing you to spend less time cleaning and more time creating.
ERA Voice Leveler
Let every word be heard, because every word is important! Turn the ERA Voice Leveler dial and easily eliminate distracting volume differences. Smooth out uneven audio levels such as those caused by actor or microphone movements, single microphone interviews, imperfect microphone placement, etc. Get rid of hours of manual tuning.
ERA Plosive Remover
Eliminates and softens the "explosive noises" usually seen on P, T, and B sounds caused by poor microphone placement. Look at the plugin waveform and see what is being removed. ERA Plosive Remover is completely transparent – just install and forget.
ERA De-Clipper
Instantly restore distorted and oversaturated sound that would otherwise be unusable. Whether you're working with dialogue or other audio tracks, you can often get stuck with clipped audio. Detect and repair clipped areas instantly and save damaged files with the world's first fully automatic de-clipper.
ERA Audio Clean-Up Assistant
Further improve the workflow and avoid juggling between multiple windows and plugin options. ERA Audio Clean-Up Assistant helps you work smarter and faster. It combines several ERA Standard plug-ins and offers carefully selected presets that you can use as a starting point for your audio processing. Create your own audio recovery chain – which you can invoke at any time – or save time by choosing CleanUp Assistant presets instead of tweaking them yourself from scratch.
Voice Changer
 – converts human speech into unusual voices – robots, aliens and monsters. Voice Changer will be useful for sound design and work with voice shows, creating soundtracks for films, TV shows and games.
[collapse]
New in version
Version 6.0.00 – 2021/9/21
New
ERA De-Breath is a brand new plug-in that automatically detects and removes annoying breath noise
The Assistant feature of Audio Clean-Up Assistant can automatically repair and enhance your audio, in just a few seconds!
Full compatibility with M1 systems
New presets for Audio Clean-Up Assistant