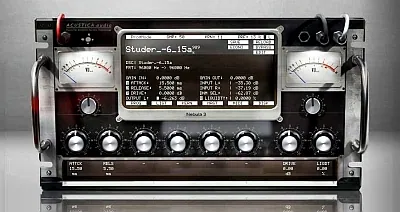 Nebula is a showcase product from Acustica Audio's, a plug-in with multiple effects in VST format for PC and MAC. Nebula emulates the character and sound characteristics of analog hardware with incredible fidelity, allowing you to recreate and duplicate multiple types of expensive audio equipment, minimizing the need for expensive and bulky studio gear. Whether it's modern advanced EQs, classic compressors, the latest reverbs or time-modified vintage effects like phasers and flangers, Nebula has it all. Experience the full power of patented audio processing technology based on vertical Voltaire cores, and find out how Nebula technology can be useful for you!
This version only works with unprotected Nebula libraries (which you can find on this site) and does not contain a separate library. Now you can directly test and support the developers of the respective libraries without having to buy the full version of N4!
There is no need to block the internet for this plugin. But if you have purchased other Acustica products and use Aquarius online, use this version at your own risk.
Libraries in distribution
AlexB 9K Console SSL XL 9000K Nebula 4 Library Skin Included
AlexB Modern Flagship Console Golden Edition Nebula 4 Library
AlexB SoundTec 432 Golden Edition Nebula 4 Library
Analog In The Box EAR Additional Spaces Reverb Nebula Library-96kHz
Analog In The Box EAR Additional Spaces Reverb Nebula Library 44.1kHz
Cupwise.Plates.Of.Legend.Vol.3.Nebula.4.Library.FULL
Cupwise Tone
Signaltonoize STN VM-Tube
Tim.Petherick.Blue.1102.v2.Nebula.3.Library
Tim.Petherick.El.Enhancer .V2.Nebula.3.Library
Tim.Petherick.Focus.comp.pro.v3.Nebula.Libray
Tim.Petherick.L-bus.comp.v2.Nebula.Libray
Tim.Petherick.NTwenty65.Filters.v3.Nebula. 3.Library
Tim.Petherick.OPTO.3a.V2.Nebula.Library
Tim.Petherick.OPto.32.Nebula.3.Library.with.alternate.Skin
Tim.Petherick.Ra6.Limiter.Nebula.3.Library
Tim.Petherick.Shape .Modifier.Nebula.3.Library
Tim Petherick Time Mod Pedal Pack
Tim.Petherick.U76.V3.Nebula.3.Library
Tim Petherick 100a V4 Nebula 3 Library
Tim Petherick – Vari-Level v2