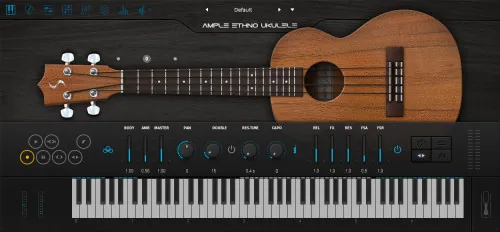 Ample Sound AEU (Ample Ethno Ukulele) aims to bring the Kamaya HF-3 Ukulele sound to your studio.
The update comes with a newly designed interface, VST3 support, and various other additions and improvements.
Changes:
Higher efficiency of reading and playing samples.
Improved playback system with better sound quality.
New UI design with GPU acceleration.
VST3 support, RTAS stop and 32-bit development.
Brand new FX DSP system, 8 band high order EQ.
Visualization of the spectrum of input and output signals in real time.
IR reverb providing four types of space: room, studio, hall and large hall.
3D visualization of the IR spectrum.
New preset managers.
New sample editor, with support for search, multiple selection and batch processing.
The Strummer virtual neck has been expanded to 24 frets.
Added a new real-time tempo doubling system.
New Envelope System Start + ADSR.
Mod Rate function.
In the authorization window on the offline tab, leaving all fields empty, click on Acnivate