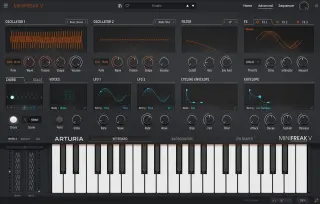 MiniFreak The MiniFreak Spontaneous Algorithmic Synthesizer MiniFreak is a polyphonic hybrid keyboard that combines dual digital sound engines with analog filters, playful modulation, instinctive sequencing and rich stereo effects to create sounds that are immediately curious, beautiful and chaotic in equal measure. In the rift where digital meets analog, engine meets engine, hardware meets software, expression meets momentum, and reality meets unbounded imagination, lives MiniFreak.
The full power of a hybrid synthesizer right in your DAW.
Choose a Freaky stream to suit your style: enjoy unmistakable hybrid sound and seamless hardware and software integration with MiniFreak VST.