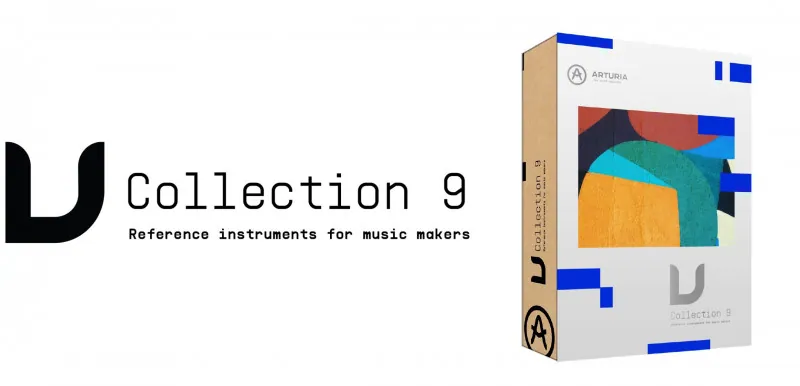 Reference instruments for music creators A set of premium professional software instruments, ranging from modern hybrid synthesizers to emulations of the most memorable instruments ever created, improved for the modern production workflow.
Immerse yourself in the perfect music-making experience with essential instruments and sounds that match your flow. 33 instruments, thousands of world-class presets and an unparalleled creative experience.
The Ultimate Choice A
focused, handpicked, expertly crafted lineup of the tools you need to make modern music. The most iconic synths, blissful keyboards and evocative hybrids to keep your creativity on track.
9000+ presets
Find the sounds you need to complete your mix with just a few clicks in V Collection 9's extensive library of professionally designed sounds with easy browsing. Enjoy any style, any instrument, anytime.
Perfect for you
High-performance features you can rely on, superior sound quality you deserve; The V Collection 9 is the result of over 20 years of engineering experience, musical research and a passion for sonic excellence.
Easy to use
You don't need to be an expert to enjoy professional sound. The tools in V Collection 9 are designed with a smooth workflow in mind, with simple interfaces, in-app tutorials, and smart features for inspiring results without the hassle.
---
Arturia – FX Collection 3 v3.1.0 VST3, x64 R2R (NO INSTALL, SymLink Installer)
Sound effects you'll really use
26 essential audio production plug-ins that offer musicians and producers the inspiring, musical and professional software tools they need to be creative when mixing, combining unrivaled emulations of vintage equipment with revolutionary modern effects.
---
Add. Info :
Plugin performance tested only in Ableton Live 11
10/26/2022
– Edits in cmd files
– Fixed a problem due to which a symlink to Augmented GRAND PIANO was not created
10/22/2022
– Augmented GRAND PIANO v1.0.0 added to V Collection
10/18/2022
– Added FX Collection 3 v3.1.0
I want to remove from the assembly FX Collection or V Collection
Let's say you don't need the FX Collection, and you want to keep only the V Collection, and remove the FX Collection from the assembly to free up disk space. How to be?
If you have already installed FX Collection, V Collection or did a full installation, then you must run the 
"02_Full Bundle Uninstall.cmd"
 file as Administrator to completely uninstall it. After that, make sure that the paths 
"C:\Program Files\Common Files\VST3"
 , 
"C:\ProgramData"
 , 
"C:\Program Files (x86)"
 do not contain the Arturia folder.
Next, you need to remove the folder that you do not need (FX Collection or V Collection) from the build root folder. And also delete the cmd batch files related to this Bundle (they are signed), and the files for full installation and removal 
"01_Full Bundle Install.cmd"
 and 
"02_Full Bundle Uninstall.cmd"
 .
Only files and folders should remain in the root folder:
Folders
– Arturia Software Center
– R2R
– V Collection or FX Collection
Files
– 00_PreClear.cmd
– 03_FX Collection Install.cmd or 05_V Collection Install.cmd
– 04_FX Collection Uninstall.cmd or 06_V Collection Uninstall.cmd
Note!
After these manipulations, you will free up disk space from the Bundle you do not need. After that, you can start installing the Bundle that you left in the root folder. But there is one point. If you later want to remove it through the batch file
 "bundle_name_Collection Uninstall.cmd"
 , then be sure to run the file
 "00_PreClear.cmd"
 after removal to clean up the tails.
Is it possible to install or remove one?
Yes. To do this, the distribution contains batch files for separate installation and removal.
For example, you can install V Collection first, and then FX Collection. And they can also be removed separately without causing damage to the neighboring Bundle.
You can also run a full installation, and then, if you want, you can remove the FX Collection separately, for example, without affecting the V Collection
If presets are duplicated in Analog Lab
1. Be sure to close the DAW
2. Go to 
C:\ProgramData\Arturia\Presets
 and delete the db.db3 file
How to move a sample bank to another drive?
In this version of the assembly, this will be the most problematic to do. In addition, it will break the structure and integrity of the root folder and the logic of the "Installations and Removals" .cmd batch files executed in it
. In this case, do not transfer anything from the root folder, otherwise further execution of batch .cmd files will be impossible!
Determine and allocate space for this plugin pack in advance. They don't weigh that much.
I urgently wanted to move the root folder with plugins to another Disk\Partition\Folder. What should I do?
1. Go to the folder where you originally installed the plugins
2. Run the batch file 
"02_Full Bundle Uninstall.cmd"
 from the root folder as Administrator
3. Make sure that the paths are 
"C:\Program Files\Common Files\VST3"
 , 
" C:\ProgramData"
 , 
"C:\Program Files (x86)"
 Arturia folder is missing
4. Move all contents of the root folder to a new location
5. Run the batch file 
"01_Full Bundle Install.cmd"
 from the root folder as Administrator
Plugins take a long time to load
Yes, because plugins are heavy. If you want plugins to load quickly, it's best to keep the entire folder on an SSD drive.
Full installation of V Collection + FX Collection
1. Unzip the archive to a location convenient for you
2. Uninstall Arturia if you already have it installed on your PC
3. Before starting anything, be sure to run "00_PreClear.cmd" as Administrator
4. Make sure that along the paths 
C: \Program Files\Common Files\VST3
 , 
C:\ProgramData
 , 
C:\Program Files (x86)
 Arturia folder is missing
5. Run 
"01_Full Bundle Install.cmd"
 as Administrator
6. Check plugins in your DAW (Plugins should not ask for registration)
Attention!
If you have already done a full installation through the
 "01_Full Bundle Install.cmd"
 batch file , then before a separate installation, you must run
 "02_Full Bundle Uninstall.cmd"
 as Administrator
---
FX Collection
To install only FX Collection
1. Uninstall Arturia if you already have it installed on your PC
2. Before starting anything, be sure to run "00_PreClear.cmd" as Administrator
3. Make sure that the paths 
are C:\Program Files\Common Files\VST3
 , 
C:\ProgramData
 , 
C:\Program Files (x86)
 Arturia folder is missing
4. Run
 "03_FX Collection Install.cmd"
 as Administrator
5. Check plugins in your DAW (Plugins should not ask for registration )
V Collection
To install only V Collection
1. Remove Arturia if you already have it installed on your PC
2. Before starting anything, be sure to run "00_PreClear.cmd" as Administrator
3. Make sure that the paths 
are C:\Program Files\Common Files\VST3
 , 
C:\ProgramData
 , 
C:\Program Files (x86)
 Arturia folder is missing
4. Run
 "03_V Collection Install.cmd"
 as Administrator
5. Check plugins in your DAW (Plugins should not ask for registration )
Complete removal of V Collection + FX Collection
To completely uninstall 
V Collection + FX Collection
 run 
"02_Full Bundle Uninstall.cmd"
 as Administrator
To uninstall 
FX Collection
 only , run 
"04_FX Collection Uninstall.cmd"
 as Administrator
To uninstall 
V Collection
 only , run 
"06_V Collection Uninstall.cmd"
 as Administrator
Analog Lab V
ARP 2600 V3
Augmented GRAND PIANO
Augmented STRINGS
Augmented VOICES
B-3 V2
Buchla Easel V
Clavinet V
CMI V
CS-80 V4
CZ V
DX7 V
Emulator II V
Farfisa V
Jun-6 V
Jup-8 V4
KORG MS-20 V
Matrix-12 V2
Mellotron V
Mini V3
Modular V3
OP-Xa V
Piano V3
Pigments
Prophet-5 V
Prophet-VS V
SEM V2
Solina V2 SQ80
V
Stage-73 V2
Synclavier V
Synthi V
Vocoder V
VOX Continental V2
Wurli V2
Bus FORCE
Chorus DIMENSION-D
Chorus JUN-6
Comp DIODE-609
Comp FET-76
Comp TUBE-STA
Comp VCA-65
Delay BRIGADE
Delay ETERNITY
Delay TAPE-201
Dist COLDFIRE
Dist OPAMP-21
Dist TUBE-CULTURE
Efx FRAGMENTS
EQ SITRAL-295
Filter M12
Filter MINI
Filter SEM
Flanger BL-20
Phaser BI-TRON
Pre 1973
Pre TridA
Pre V76
Rev INTENSITY
Rev PLATE-140
Rev SPRING-636
Tape MELLO-FI