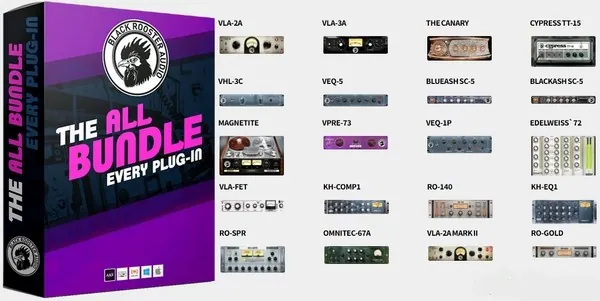 A vintage breeze of classic studio equipment combined with modern , easy-to-apply digital processing makes this kit the perfect toolchain for everyday mixing. Everything you need for a fraction of the cost.
AUTHENTIC CIRCUIT EMULATION
 :
Our real-time, component-based SPICE-type circuit simulation approach allows you to authentically capture the sound and feel of analog analog in every nuance. All important parts of the original circuits, including audio transformers, tube stages or passive filter networks, have been accurately modeled.
SSE2 OPTIMIZED CODE
 :
DSP operations are pipelined using the SSE2 instruction set. This ensures the highest possible performance despite very complex calculations.
AUTOMATICALLY ADJUSTABLE OVERSAMPLING FOR MAXIMUM SOUND TRANSPARENCY
 :
Aliasing artifacts are effectively suppressed using a linear-phase low-latency Dolph-Chebyshev polyphase circuit. Oversampling automatically adjusts to your session's sample rate to save valuable CPU power while offering the most transparent sound possible.
HIGHDPI / RETINA SUPPORT
 :
All of our plug-ins support high pixel density on Mac OSX and Windows to provide the best high-resolution display experience. Please refer to your manual to see if your DAW supports HighDPI if you are on Windows.
BlackAsh SC-5
BlueAsh SC-5
Canary
Cypress TT-15
Edelweiss72
KH-COMP1
KH-EQ1
Magnetite
OmniTec-67A
RO-140
RO-GOLD
RO-SPR
TD-201
VEQ-1P
VEQ-5
VHL-3C
VLA-2A Mark II
VLA-2A
VLA-3A
VLA-FET
VPRE-73
VPRE-73HE
Uninstall previous versions.
If you have a previous VR installation, uninstall,
Remove "%APPDATA%\Black Rooster Audio\".
Otherwise, your authorization will not be saved.
Install.
Register in our key / gen.