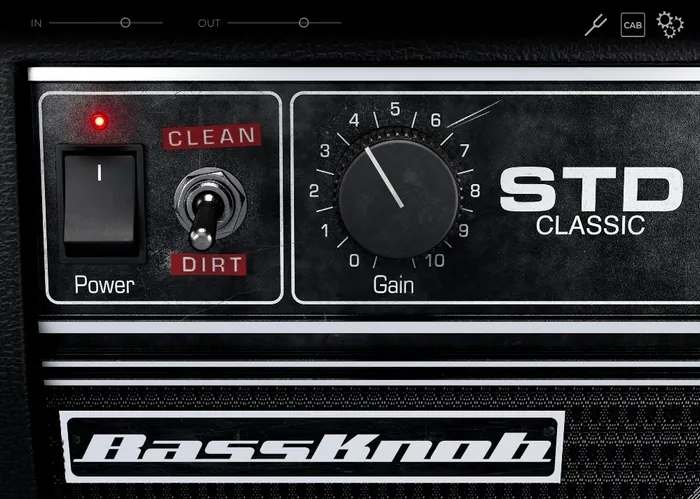 YOUR NEW LOW-END–
BassKnob: STD gives you the best bass sound you've ever heard at the turn of a knob. Add rich bass to your next recording, record a quick idea in pristine quality, or simply enjoy beautiful sound for your next rehearsal.
Simple, dynamic, responsive, articulate. This is absolutely everything a cool bass plugin should have.
ALL YOU NEED
 –
Mix-finished™ sound from producer Jens Bogren
Clean and dirty channels
Cab-Off button (use your own IR)
Bass-optimized tuner
Built-in gate
YOUR (B)ASS DESERVES THE BEST
 –
Creating a bass sound that's great fit into the mix – it's an art. STD offers a sophisticated recording chain based on Jens Bogren's favorite amp, using state-of-the-art algorithms to get THAT sound in seconds. You have to try to believe it!
Do you have your own NPs? Use the cabinet switch and apply your preferred cabinet sound with a lush American Classic head tone.
The design of BassKnob is as intuitive as possible. Plug it into your DAW or hack a standalone app, select a Clean or Dirty channel, squeeze the handle until you smile, and get to work.
Upset? We'll have your back. Open up the tuner, tidy up that pesky low B string, and record that magical bass line in your head before it disappears forever.
So whether you're sitting down to rehearse, picking up a quick musical idea, or tracking down and mixing your band's next hit, BassKnob: STD lets you jump right into action so you can focus on what's important: making great music.