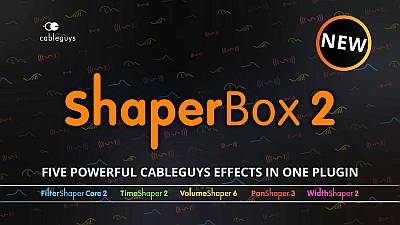 Five Powerful Cableguys effects in one plugin. For modern mixes and endless inspiration.
With five powerful Cableguys effects – TimeShaper 2, VolumeShaper 6, FilterShaper Core 2, PanShaper 3 and WidthShaper 2 – ShaperBox 2 creates amazing musical, rhythmic effects and helps solve complex mixing problems. Explore over 1000 professional presets and share patches via the Cableguys cloud.
TimeShaper : Shape the flow of time to create everything from everyday effects to unique multi-band transformations.
FilterShaper Core : Combines the excellent filtering technology of the full-fledged FilterShaper 3 with an optimized modulation system. Using the same award-winning Sallen-Key filters as the FilterShaper 3, you can expect all the richness, warmth and complexity of a high quality analog filter.
VolumeShaper : allows you to accurately determine the levels of any audio signal.
PanShaper 2 : Powerful, fast modulation editing, multi-band options, streamlined interface and unparalleled ease of use: PanShaper takes stereo control to the next level.
WidthShaper : Define your stereo image in great detail with three mid/side stereo adjustment bands, each with its own modulation curve.