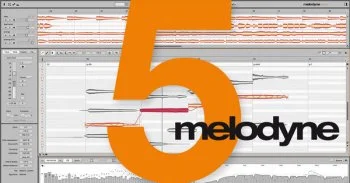 Melodyne gives you unparalleled access to all the musical details of your recordings and samples – note by note. This is made possible by sophisticated analysis that dives deep into your recordings and samples, and recognizes and understands the musical relationships within them: individual notes and their characteristics, scales, keys and chords, time signature, tempo, tone coloration. . And with Melodyne you can edit all these things intuitively. With vocals, but also on any instrument, including polyphonic ones such as piano and guitar.
With Version 5, Melodyne strengthens its core competencies, making vocal editing features even more powerful than before. The most important new features:
fundamentally improved "Melody" algorithm
more musical analysis of pitch deviations
separate processing of tonal and non-tonal (noise) components
ideal de-esser functionality without side effects
Chord Track and chord recognition
Chord Grid for pitch editing
Fade tool and alignment macro
new "Percussive Pitched" algorithm
What's new in version 5.3
New in version 5.3
The update to version 5.3 contains improvements and bug fixes, so we recommend it to all users. In addition, Melodyne 5.3 is required to integrate ARA into Pro Tools 2022.09.
New features and improvements
Surround: In ARA and Transfer modes, Melodyne can now also be used to edit tracks in standard surround formats.
ARA in Pro Tools: Melodyne 5.3 comes with all the technical prerequisites for integrating ARA into Pro Tools since version 2022.09 and thus enables a greatly improved workflow in Pro Tools.
Settings: When Melodyne is used as a plugin for the first time, it will load a set of keyboard shortcuts that match the DAW you are using.
Error correction
Recording: In Melodyne's standalone implementation, you can now also use a recording device with a mono input (such as a MacBook microphone).
ARA in Cubase: When moving an ARA event to an unselected track, the selection in Melodyne is now preserved.
Pro Tools: Melodyne's playhead position now correctly updates even when playback is stopped.
AAX in Pro Tools: When reverting/committing, Melodyne now correctly evaluates the offline setting.
Correct Pitch macro: When a macro was applied to a very large number of notes at the same time, Melodyne would sometimes freeze. It doesn't happen anymore.
Settings: Previously in ARA mode, the keyboard shortcut for "Select Playback" was erroneously displayed in the "Others" section and not in the "Transport Panel" section. This has been fixed.
Note Inspector: The input field for Sibilant Balance now reliably accepts input even when multiple tracks are being edited at the same time.
ARA in Bandlab's Cakewalk: Under certain circumstances, Melodyne would crash when loading a session. This has been fixed.
Ableton Live: Found and fixed a cause of occasional crashes when launching Melodyne in Live 11.1.1 under macOS Monterey on a Mac with an M1 chip.
Editing note: "Restore Original" commands in the "Edit" menu now work more consistently in the standalone implementation, in the "Transfer" plugin, and in ARA.