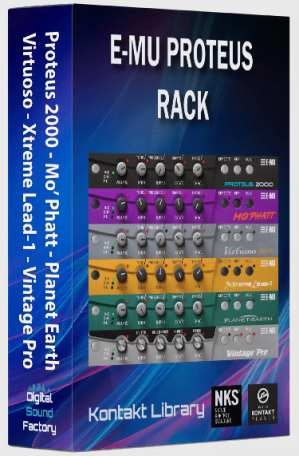 The Next Generation of Proteus The Proteus Rack library was created by the original E-MU sound and graphic designers. Starting from the original hardware sound samples, the instruments are displayed and programmed according to the hardware sound modules. Powerful script programming integrates hardware features into software for the same great look and feel as sound modules.
This new sound library is not an update to the original Proteus Pack. The sound module synthesizers were built from the ground up. Now developed for the free Kontakt Player by Native Instruments, the full version of Kontakt, Komplete and Maschine. The instruments are easy to integrate and can be controlled by any NKS equipment.
Includes Proteus 2000, Mo' Phatt, Virtuoso, Xtreme Lead-1, Planet Earth and Vintage Pro with over 3500 legacy sounds to expand your imagination.
– Designed for free Kontakt Player, full version Kontakt hardware, Komplete, Maschine and NKS.
– Dynamic graphical interface providing hardware functionality
– Modular programs are grouped, ordered and labeled according to the hardware.
– 3 effects busses with parameter control
– 32-step programmable arpeggiator
– Solo/mono mode with Legato and Glide Control
– Full Kontrol preview
– Compatible with all NKS hardware controllers