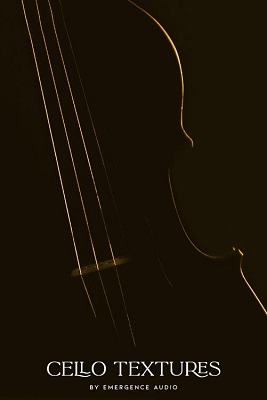 A NON-CONVENTIONAL APPROACH
Emergence Audio is proud to introduce Cello Textures, the second installment in our series of non-static stringed instruments. Expand your sonic possibilities with our Infinite Motion Engine and non-static sampling that combines emotion and synth programming in one easy-to-use interface.

Requires Native Instruments Kontakt PLAYER or FULL v6.7 and higher!
We brought in world-renowned cellist Mariko Muranaka to bring this concept to life, and the results are beautiful!
Our intuitive Infinite Motion Engine and Non-Static Sampling process allows you to blend and sculpt expressive sonic landscapes in new and unique ways that never feel static. Create pads, textures, soundscapes, drones and pulses for a wide range of genres including film, television and game scoring, contemporary era music, neo-classical music, ambient music, drone music, sound design, trailer music, new age/meditation music , and much more.
NON-STATIC SAMPLING
IDEAL FOR SCORING TO PICTURE AND AMBIENT MUSIC
We had our cellist perform each sampled note with a subtle unpredictability within the same sound source.
– CONVOLUTION REVERB
– DELAY
– CHORUS
– PHASER
– ROTATOR
– STEREO IMAGER
– DISTORTION
– SATURATION
– LOFI
– TAPE SATURATION
Go deeper with our FX section's top-shelf convolution reverbs and attenuverter options that bring next level control.
OVERVIEW
– 3.33 GB of source material
– Infinite Motion Engine™
– Non-Static Sampling™
– 17 traditional but uniquely performed articulations
– 120 presets designed by founder Michael Vignola
– 100+ parameters to customize your own sound
– 5 curated preset categories
– Convolution reverb with 50+ top-shelf impulse responses
– 10 effects and randomizer
– Evolving organic soundscapes and pads
– 24bit 48kHz samples
– Midi learn/automation for all controls