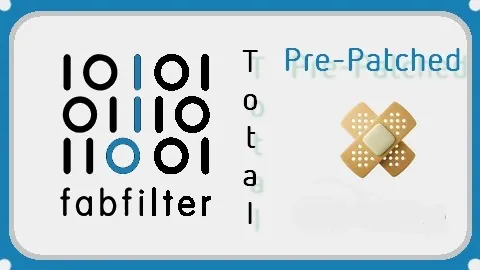 Cured a set of all FabFilter plugins. In this pack you get our professional EQs, reverbs, compressors, multiband speakers, limiters, de-essers and gates/expanders, creative multiband distortions, delays, filters and synth plugins.
Plugins included
FabFilter Twin 3 is a powerful synth plugin with the best sound quality, a high quality effects section and a highly flexible modulation system.
FabFilter Pro-Q 3: A high quality equalizer plugin.
FabFilter Pro-R: High quality reverb plugin.
FabFilter Pro-L 2: A limiter plugin with true peak limiter features.
FabFilter Pro-C 2: Professional compressor plugin.
FabFilter Pro-MB: Professional multi-band compressor and expander.
FabFilter Pro-DS: An intelligent de-esser.
FabFilter Pro-G: Flexible gate/expander plugin.
FabFilter Saturn 2: Multiband distortion/saturation.
FabFilter Timeless 3: vintage delay plugin.
FabFilter Volcano 3: Powerful filter plugin.
FabFilter One: A simple synth plugin.
FabFilter Simplon: Basic filter plugin.
FabFilter Micro: Mini filter.
All plugins have been updated with UI scaling and more
 !
We've just released an update to all FabFilter plugins that brings support for AAX Apple Silicon as well as bug fixes, improvements and some small new features.
So what's new
 ?
⦿ Added Apple Silicon support for all AAX plugins.
⦿ All Pro and Creative plugins now support interface scaling. The resize button at the bottom right of the UI now offers a Scaling sub-menu where you can zoom in or out on the entire UI, such as 125%, 150%, etc.
⦿ Reduced CPU spikes when changing oversampling or high quality mode in Pro and Creative plugins.
⦿ Added right-click context menu for preset button with Save and Save As options. In Twin 3, this also allows you to mark a preset as a favorite.
⦿ Added support for programmatic MIDI changes in VST3 plugins.
⦿ Timeless 3, Volcano 3, Twin 3 and Saturn 2: Added Show Source Flow option available via Add Source '+' button menu.
⦿ Timeless 3, Volcano 3, Twin 3 and Saturn 2: Added Auto-Collapse Sources option, accessible via the Add Source '+' button menu. If this option is enabled, when one source interface is expanded, the others are automatically collapsed (default behavior). If the option is disabled, multiple source interfaces can be deployed at the same time.
⦿ Pro-DS and Pro-G: Added support for various interface sizes and full screen mode.
⦿ Pro-G: Added visualization of the density spectrum in the sidechain filter controller, similar to how it is displayed in Pro-DS.
⦿ Pro-L 2: Added Auto-Reset option for volume metering, available as a toggle in the Loudness Time Scale menu. If this option is enabled, volume measurement and clipping will be reset each time playback is started in the DAW.
⦿ Twin 3: Fixed a bug where the main parameter Frequency Offset was ignored for filters with panning and unmodulated filter frequency.
⦿ Twin 3: Changed the design of the options icon in the preset browser to make it easier to find.
⦿ Volcano 3: Fixed a bug that could cause possible clicks or noise when modulating filter peaks around zero.
⦿ Volcano 3: Fixed an issue where entering text for the peak value in the parameter value display changed the frequency when the piano display was on.
⦿ Volcano 3: Fixed an issue in the mono version of the plugin where filters removed from the interface could still be in effect.
⦿ Twin 3: The Arpeggiator Lock option is now always disabled for new plugin instances.
★ Small fixes and improvements.