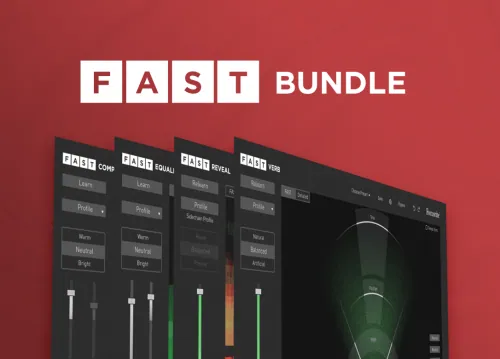 The FAST series was designed to keep you in the creative flow so you can focus on making music. Powerful artificial intelligence adapts the settings to your sound and instruments so you can achieve great results in no time. FAST Bundle includes: FAST Compressor, FAST Equaliser, FAST Reveal, and FAST Verb.
FAST Compressor quickly gets the most out of your sound. Using the power of artificial intelligence to make sound more controlled, it's designed to keep you in the creative flow and focus on what's important: making music.
FAST Equaliser lets you quickly and easily mix your sounds so you can focus on making music. An AI-powered intelligent engine analyzes your sound and automatically adds EQ filters to help you fine-tune and refine it so your sound fits perfectly into the mix.
FAST Revealcreates space between two tracks competing for attention in your mix, so you can focus on being creative. It provides the clarity you need to make your mixes shine by automatically balancing the foreground and background signals.
Easily add depth to your voice and instruments with FAST Verb , making it sound more natural in seconds. FAST Verb will find you the right reverb for your sound, allowing you to quickly achieve studio-quality sound with options to tailor the sound to the mood of your track.