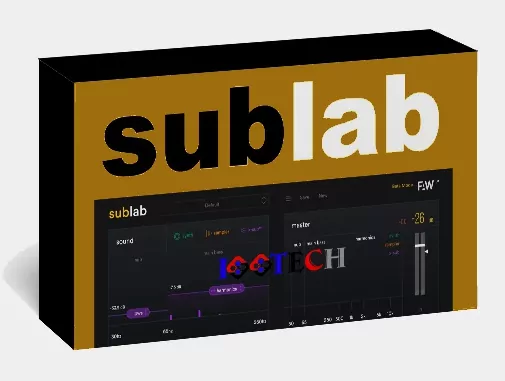 The most powerful sub-bass every time
A new class synthesizer designed for hip-hop, bass guitar and trap genres.
Create powerful 808-style sub-bass that punches through every speaker every time.
808 bass and above
Everything you need to create a powerful and punchy sub-bass in minutes
Sample, layer, expand and distort any kick into spectacular subs.
Simple mixing workflow for superior sound on every sound system.
Introducing X-Sub
 ™ Technology
Our new psychoacoustic sub-bass oscillator
Get consistent, accurate and deep subs on any bass note.
Recently invented and only available in SubLab.
Filled with the sounds
of 250 samples from high quality modular and classic analog drum machines.
Comes with 6 branded Bass Packs.
Drag and drop your own samples into the sampler home page.
SubLab comes with hundreds of exclusive samples, 6 signature Bass Packs and more. Expand the lists below for a full breakdown.
808 bass packs included
 :
Compressed, maximized, track-ready 808s. Ready to use in your music today.
Richie Soof's Signature – 808 sounds created by Richie Soof from Atlanta. He works with Future, Young Thug, Gunna and more.
Hits DNA Vol.1 – 808 of the best sounds of the moment, recreated from scratch in SubLab. Includes 808 from ScHoolboy Q, 21 Savage, Post Malone and more.
Divine Bass – Sleek 808s and deep, dark subs created by YouTube trap production instructor Sean Devine.
Crushed – The heaviest distorted 808 bass.
Analog Machines – Warm analog sounds recreated in SubLab just like they came straight from classic analog machines.
Pure Subs are the cleanest subs to overdub when you already have a kick drum in your track.
– Bonus Samples
 :
SubLab also comes with a bonus sample pack of 250 meticulously recorded drums, transients and 808s taken from every analog drum machine we could get our hands on.
Roland TR-808
Roland TR-707
Waldorf Blofeld
Jomox MBase 11
MFB 522
Nord Lead
Noise Engineering Basimilus Iteritas
Befaco Kikoll
Intelligel Dixie
Hex Inverter BD9
Interchangeable Tool Inserts
Dave Smith Tempest
Wolf Korg Beats Wolf
Korg Kik
Vermont Mono Lancet '15
And more…