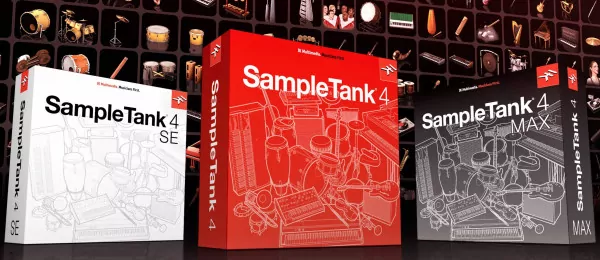 The new SampleTank 4 is a program designed from the ground up. It's an expert music production workstation that features a fully scalable interface, a massively expanded sample library, and a state-of-the-art audio engine that makes the most of data streams, making things possible that were only dreamed of yesterday. Effects that required dozens of plugins are now implemented right inside SampleTank 4, making work faster and more inspiring.
Distribution Content + Installation
Content included in distribution from Syntronik
Contains 33 synthesizers:
Syntronik 2 MAX Multis
99, Blau, Bully, CATO, DCO-X, GS-V, Galaxy, Harpy 260, J-8, J-60 + Bonus Sound Content, Minimod, Noir, OXa, Polymorph, Pro-V + Bonus Sound Content,
SAM + SAM Bonus Sound Content, String Box, T-03 + Bonus Sound Content, V-80, KW-8000, M-12, M-Poly, Megawave, Memory-V, Modulum, OSC-V,
Obie One, PRO-VS, SH-V, SYNER-V, Sorcerer, Triptych, VCF3
---
Install SampleTank, register.
Specify the path to the downloaded IK Multimedia folder by clicking Add in the SampleTank settings, then click Rescan All