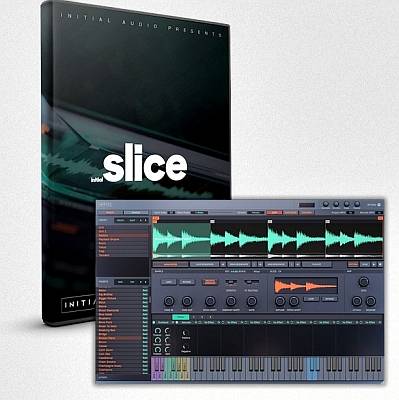 Year / Date of Release : 2021
Version : 1.1.6
Developer : Initial Audio
Developer site : initialaudio
Format : VSTi, VSTi3, AUi
Bit depth : 64bit
Tablet : present | R2R
System Requirements : Windows: 64 Bit VST
Mac: Audio Unit & VST
Description : Initial Audio Slice is a new Loop Slicer and Sampler for Mac & Win.
Initial Audio is back with a new plugin. Not a new synthesizer this time, but a tool with which you can manipulate, cut and organize samples.
Slice is a plugin for playing samples, slicing loops and creating beats. Samples can be easily loaded into the plugin using drag and drop. Here you can slice, loop, reverse, shift or stretch in time. Samples can be triggered either directly from the DAW or using the built-in sequencer / piano. This way you can create sequences right in the box.
The developers have also built in an advanced drum sequencer, bass sequencer and playlist editor. Plus, you can enhance your sounds with 4 effect racks, each with 11 built-in effects. Slice comes with over 300 free factory samples, including beat starters and drum patterns.
It is very convenient to be able to create your own libraries, drum patterns and beat starters in the plug-in, which you can then sell. Slice saves all the samples and drum sounds you use to a project file, users don't need to deal with files and folders, they can simply load new content using drag and drop.
Slice looks like a very useful plugin. However, this is not something completely new. Many DAWs currently offer these features in their own sample playback devices. If you have a digital audio workstation without a neat sample player, this can be an interesting product.