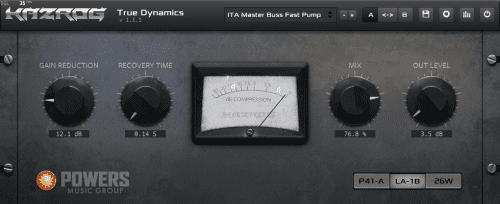 Kazrog – True Dynamics v. 1.1.1
True Dynamics (NAMM TEC Award nominated) emulates Presto 41A, ITA LA1B, and now (in version 1.1+) Collins 26W – three of the most sought-after and hard-to-find vintage tube compressors in all of professional audio.
They are the rare secret weapon of some of the world's best mixing and recording engineers and can now be in your DAW for a fraction of the cost of owning real devices (assuming you can find them at all!)
The emulation technology behind True Dynamics , includes the same industry-leading analog modeling DSP as used in Kazrog's acclaimed True Iron plugin.
Add. Information :
-High-precision emulation of Presto 41A, ITA LA1B and Collins 26W compressors inside one plug-in.
-Switch between compressor models with one click.
– Single control for gain, release time, mix percentage and output level.
-Standard Kazrog preset manager with A/B comparison.
-Compensated internal bypass.
-Advanced panels with advanced user options such as oversampling control,
-LPF/HPF sidechain and zero latency mode for real-time tracking.
– VU-meter.