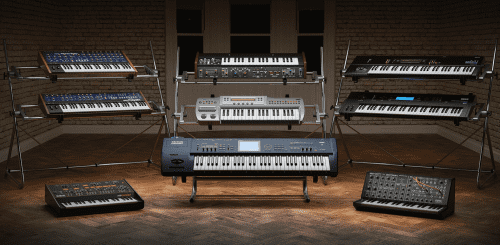 Transition to the next generation. Turn your ideas into music quickly and intuitively. The best plugins for creating music.
KORG Gadget Plugins – A collection of plug-ins with an intuitive user interface provides over 40 small synthesizers and drum machines called "gadgets" that you can freely combine to create music. Starting with the award-winning iOS version, followed by Gadget for Mac with its powerful collection of plugins, now Gadget Plugin – plugins are compatible with Windows. With carefully selected parameters and premade sounds/presets, you can now use various powerful gadgets with your favorite DAW on your PC.
The latest version of KORG Gadget 2 Plugins for PC includes 7 additional gadgets, all of which are already available in the Mac version. "Bilbao", the first additional KORG Gadget sampler, "Abu Dhabi", a sampler "Recife", a drum equipped with 16 pads, "Lisbon", capable of producing a thick and brilliant sound, "Vancouver", a sampler that can be played freely on the keyboard, and "Zurich", a sound effects box with 26 different effects. Additionally, Madrid has been added to incorporate live grooves with acoustic and electric basses into your music. Now you can use all these high quality sounds and presets in your favorite DAW.
Run the file: 1. KORG Create SymLink.cmd, wait for the keygen window to appear, press "REGISTER".
---
To create/delete desktop shortcuts, use the following files: 3. KORG Create Shortcuts.cmd / 4. KORG Delete Shortcuts.cmd
---
For complete removal, use the file: 2. KORG Delete SymLink.cmd
KORG.ARP.ODESSEY.v1.3.0.Incl.Keygen-RET
KORG.Gadget.2.Plugins.v2.7.2.Incl.Keygen-RET
KORG.LegacyCell.v1.6.0.Incl.Keygen-RET
KORG.M1.v2 .3.2.Incl.Keygen-RET
KORG.MDE-X.v2.3.1.Incl.Keygen-RET
KORG.miniKORG.v1.0.5.Incl.Keygen-RET
KORG.MonoPoly.v2.3.1.Incl.Keygen-RET
KORG .MS-20.v2.3.1.Incl.Keygen-RET
KORG.Opsix.Native.v1.0.3.Incl.Keygen-R2R
KORG.PolySix.v2.3.1.Incl.Keygen-RET
KORG.Prophecy.v1.1.0. Incl.Keygen-RET
KORG.TRITON.Extreme.v1.0.5.Incl.Keygen-RET
KORG.TRITON.v1.3.7.Incl.Keygen-RET
KORG.Wavestate.Native.v1.0.3.Incl.Keygen-RET
KORG. WAVESTATION.v2.3.1.Incl.Keygen-RET