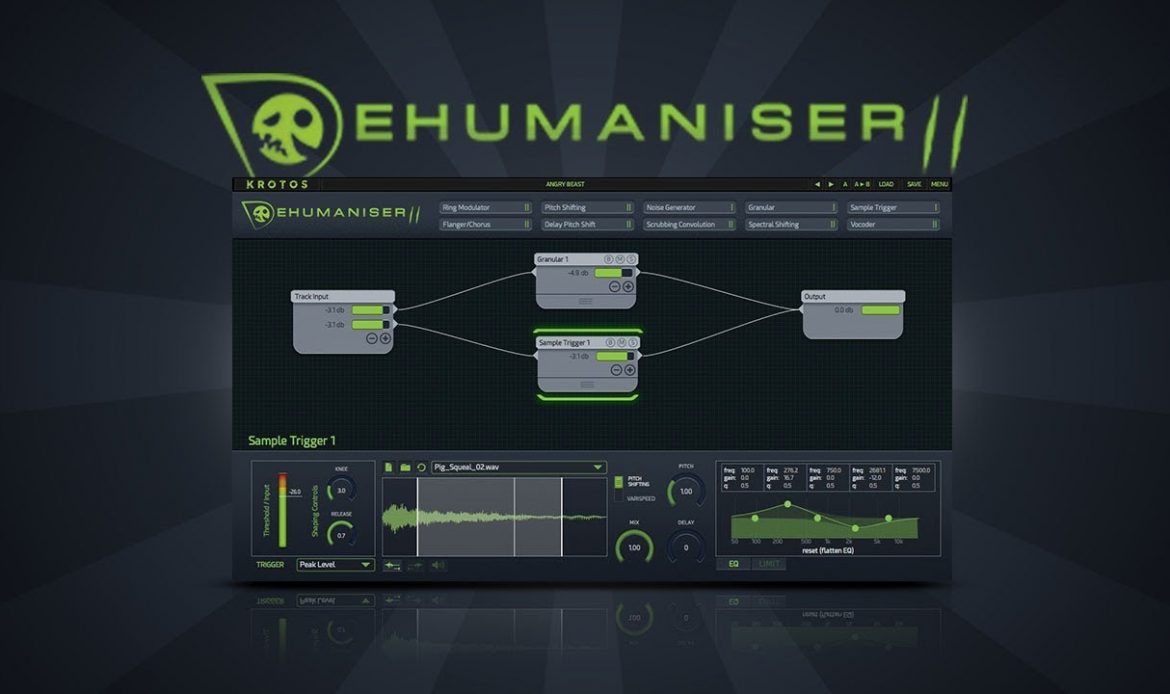 Bring your creations to life!
Dehumaniser 2 is a powerful vocal processor for creating complex vocal sound effects and processing dialogues. Create creatures, monsters and robots quickly and easily with an intuitive and modular workflow in Dehumaniser 2.
Customize and combine effects modules for unlimited creativity, or get started right away with 100 ready-made presets.
Dehumaniser 2 is a versatile solution that provides you with important features of sound vocal design, making it an ideal plugin for use in movies, TV, video games, live performances and more.
Famous sound engineers used 10 main modules and more than 100 impressive presets to bring otherworldly characters to life in blockbusters such as "Avengers: Age of Ultron," "The Jungle Book," "Far Cry 4," "The Conjuring, and "Stranger Things."
This versatile vocal processor eliminates the complexity of setting up complex processing chains and allows designers to get started immediately with their creative work.
Run samples with amplitude, pitch, or a series of audio descriptors, or using the sample launcher. This includes rare and unusual animals such as the Bengal tiger and black leopard, which were recorded by our sound engineer in Thailand.
Drag and drop the selected audio files from our audio samples folder to get started with the sound design. These audio files that come with the plugin are included in the installation.
Use Dehumaniser 2 in industry-standard DAWs including Pro Tools, Logic, Reaper, Live, Cubase and Digital Performer
Run multiple instances of Dehumaniser 2 on different tracks or buses
Automate hundreds of parameters for unprecedented control over your processing and workflow
Clearly see the layout of audio routings with our modular, node-based system
Use up to two instances of each node; use multiple pitch shifters, granular processors, spectral or convolution processes or more in complex serial or parallel signal paths
Create systems and settings which are truly performable
Our factory library ships with over 100 thrilling presets and 133 high-quality animal recordings, including Tigers, Leopards, Pigs, Parrots and more
Jump straight into creature design or create your own settings
Trigger sample sounds based on amplitude, pitch or from a range of audio descriptors
Create dynamic effects that react to the input signal; create processing engaged by pitch or amplitude settings per node
Select between peak level, RMS level, energy difference or pitch tracking to bring your signal to life
Midi control, assign and recall
Gate, EQ and Limiters per module (including input and output)
Custom 'drawer' macro system per node
Envelope-follow based on pitch or noise content as well as amplitude, per module in your custom system