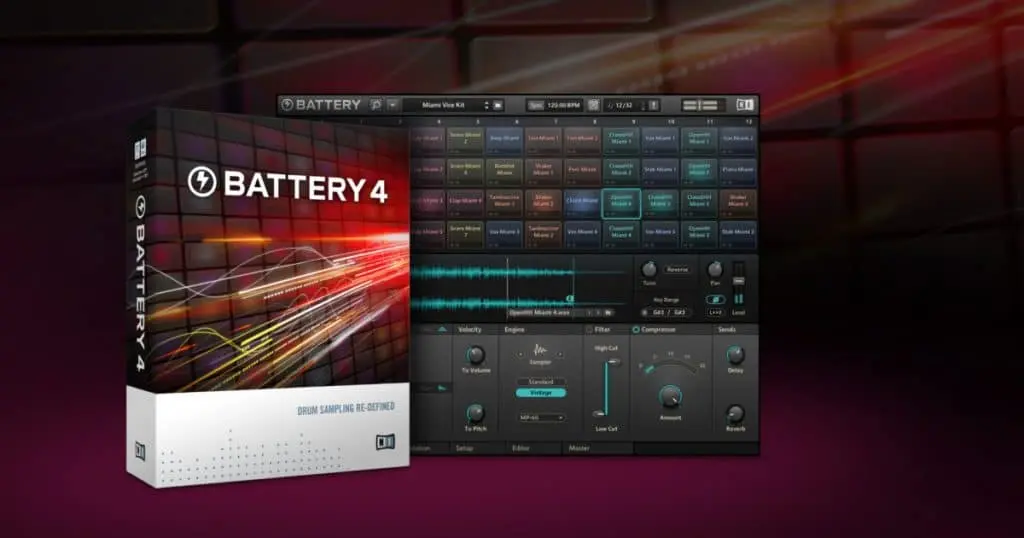 Description: Native Instruments Battery – professional drum sampler. The widespread use of this sampler was made possible due to low system resource requirements, ease of use and compatibility with a huge number of sample formats. The highlight of Battery was the matrix, the dimension of which can be changed by the user depending on the number of samples loaded (up to 128 cells). Thanks to the color coding of cells, the possibility of multiple choice, the configuration of rows and columns of the matrix, the user has become even faster and more convenient to work with the content and parameters of cells. The properties of Battery cells were supplemented by such parameters as articulation, humanize. The samples of each cell can be adjusted for length/speed (Time Expand/Compress).
Factory Library:The BATTERY 4 library focuses on electronics and hip-hop production, introducing 70 brand new modern sets. All 143 sets load instantly. Find your drum sound, drag it into a cell and start playing – the ultra-intuitive tag system lets you quickly find the sounds you're looking for. BATTERY 4 is compatible with your nozzles, whether you use factory sounds or create your own. It even remembers the history for each cell separately – you can immediately see the path that led you to each sound, even after working with the other cells.

Key features
– Powerful drum sampler with comprehensive capabilities, based on the next generation sampler engine.
– Improved interface and increased convenience, fast and intuitive access to all parameters. The delivery includes 8 video lessons with step-by-step instructions.
– Fully customizable cell matrix: freely definable number of rows and columns, up to 128 cells for loading drum sounds.
– Improved effects at the level of individual cells and a new section of master effects.
– Nuance functions: roll, flam, buzz, right hand, etc.
– Import loops in Apple Loops™, REX™, Acid Wave™ and Beat Creator formats™.
– Time compression/stretch function for each cell, which opens up creative possibilities when manipulating samples.
– Edit samples on the fly.
– Minimal system memory usage thanks to the Sample Purge function.
Screenshots of the About window
What's new
Added: Library favorites; it is now possible to "star" any kit or sample and later filter only for favorite content.
Added: Usage data tracking.
Fixed: Sample selection arrows now work as expected even when auto-load is enabled in the browser.
Fixed: No random sounds are triggered anymore when loading Battery with auto-load enabled.