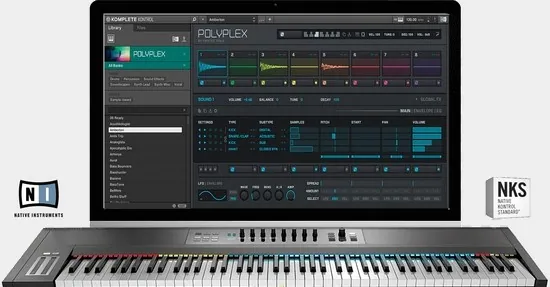 Experience a new dimension of music production with KOMPLETE KONTROL, your essential companion for unleashing the full potential of the KOMPLETE series products. This innovative software redefines music creation, offering a seamless and intuitive interface that transforms your ideas into reality. Discover a universe of sounds and effects that are more expressive, intuitive, and inspiring than ever before. Let's delve into the world of KOMPLETE KONTROL, where creativity knows no bounds.
KOMPLETE KONTROL: Your Sonic Universe Awaits
KOMPLETE KONTROL opens the gateway to a realm of advanced software tools, all at your fingertips. This powerful platform enables you to explore a multitude of sounds, effects, and instruments with unparalleled ease. Say goodbye to tedious browsing and downloading – KOMPLETE KONTROL simplifies your workflow by managing the entire universe within a single KOMPLETE plugin, complete with intuitive browser-based tags.
NATIVE MAP Technology: Effortless Control
Experience the future of music production with NATIVE MAP technology. This groundbreaking feature automatically maps all key parameters of each KOMPLETE instrument to your controller's touch buttons. Navigate your musical landscape effortlessly, thanks to the LIGHT GUIDE function, which illuminates zone selection keys in vivid colors, corresponding to the selected instrument. This visual aid enhances your creativity and streamlines your music-making process.
Elevate Your Melodies with Advanced Arpeggiation
KOMPLETE KONTROL takes your melodies to new heights with an advanced arpeggiator, meticulously optimized for live performances. Create intricate patterns, mesmerizing sequences, and captivating rhythms effortlessly. Let your musical ideas flow freely as you explore the endless possibilities of this dynamic arpeggiator.
Changelog Highlights
Stay updated with the latest enhancements and bug fixes to ensure a smooth and efficient music production experience with KOMPLETE KONTROL:
Version 2.9.1 [2023-03-30]:

Fixed a crash that could occur when pressing BROWSER+SHIFT on the keyboard controller simultaneously.

Version 2.9.0 [2023-03-22]:

Resolved a crash issue in Logic Pro when closing the plugin UI with the speech engine enabled.
Improved handling of MIDI program change messages with VST3 plugins.
Fixed UI display issues in AAS plugins after reopening UI in Live.
Addressed a ScanApp crash.

Version 2.8.1 [2022-12-07]:

U-he plugins now migrate correctly to VST3.

Version 2.8.0 [2022-10-31]:

Added support for native silicon.
Introduced support for VST3 hosting.
Implemented VST migration support, allowing seamless transition from VST2 to VST3 instances while preserving settings.
Various bug fixes and improvements.

Version 2.7.2 [2022-05-16]:

Fixed S-Series MK2 display unresponsiveness during template editing via MIDI Assignment Editor.
Resolved hardware unresponsiveness after installation via Native Access 2.

Version 2.7.1 [2022-05-10]:

Fixed MIDI templates created in CONTROLLER EDITOR not being available for KOMPLETE KONTROL S-Series MK1 keyboards.