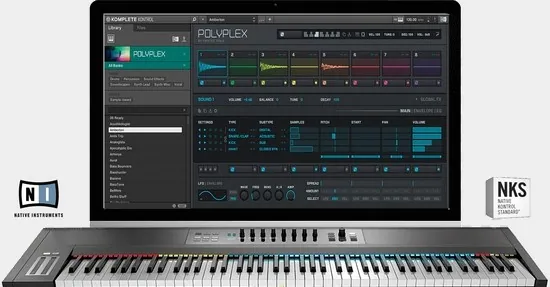 KOMPLETE KONTROL unlocks the full potential of KOMPLETE series products.
Feel the most advanced software tools come to life right at your fingertips – more expressive, intuitive and inspiring than ever.
Browse and download sounds with a single click – KOMPLETE KONTROL manages the entire universe in one KOMPLETE plugin with browser-based tags.
NATIVE MAP technology to automatically assign all key parameters for each
KOMPLETE instrument to the touch buttons of the controller. The LIGHT GUIDE function will show you that the zone selection keys are colored
in full color, depending on the instrument. Create melodies with an advanced arpeggiator optimized for performances.
Changelog History
Version 2.9.1 [2023-03-30]:
Fixed a crash that could occur when pressing BROWSER+SHIFT on the keyboard controller at the same time.
Version 2.9.0 [2023-03-22]:
FIXED Crash in Logic Pro when closing plugin UI with speech engine enabled.
FIXED Handling MIDI program change messages with VST3 plugins.
FIXED AAS plugins UI empty after reopening UI in Live FIXED ScanApp crash.
Version 2.8.1 [2022-12-07]:
FIXED U-he plugins now migrate correctly to VST3.
Version 2.8.0 [2022-10-31].
ADDED support for native silicon.
ADDED support for VST3 hosting.
ADDED VST migration support. Opening a project containing VST2 will automatically migrate to VST3 instances, preserving settings-settings (This feature is available for plugins that have added support for VST3 migration).
Fixed various reported bugs and issues.
Version 2.7.2 [2022-05-16]:
Fixed S-Series MK2 display not responding when editing templates via MIDI Assignment Editor.
Fixed hardware not responding after installing via Native Access 2.
Version 2.7.1 [2022-05-10]:
FIXED MIDI templates created in CONTROLLER EDITOR are not available for KOMPLETE KONTROL S-Series MK1 keyboards.
Installation Instructions
0.Uninstall previous versions.
1.Install the software.
2. Copy NativeAccess.xml and go to "C:\Program Files\Common Files\Native Instruments\Service Center\" and paste.
3: Run Keygen, select Komplete Kontrol v2.6.0+ and click "Register".