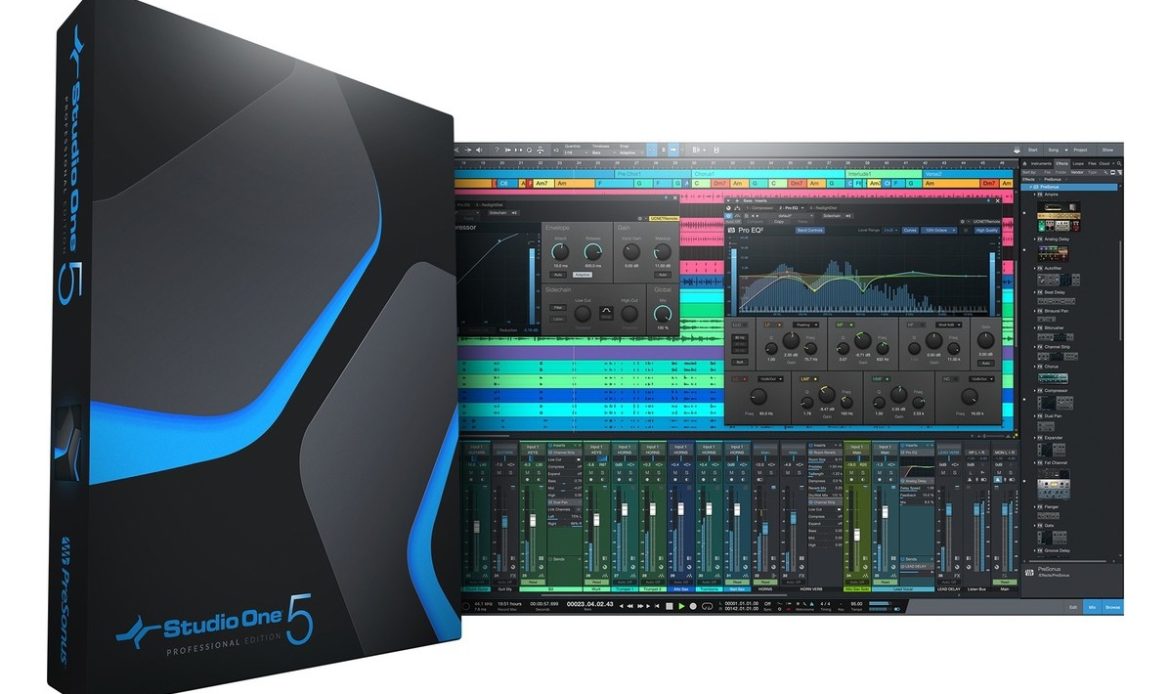 Record, produce, mix, master and perform everything from one intuitive app. Built with ease of use in mind, Studio One® 5 is your creative partner from the studio to the stage. Studio One is driven by tools that expand your creativity without getting in the way; we pioneered the drag and drop workflow that is still used elsewhere today. Time-consuming tasks that take five steps in other DAWs usually take… one. Popular example: you can convert MIDI to audio and back again with a simple drag and drop.
Open the song page and you'll find everything you need to record, compose, edit and mix with a full suite of virtual instruments, effects, innovative live and static arranging tools, and an expanded score view based on our award-winning concept. music application. Then build and master your masterpiece on the project page. Projects and songs are linked, so you know the mix you're making is always up to date.
And when you're ready to take the stage, Studio One is there for you. The all-new show page lets you add virtual instruments, background tracks, and plug-in effects to your live instruments with an easy-to-use set list that lets you sculpt your performance and change your show every night, or change your performance in real time. time. New in version 5.2, Live Arrangement lets you loop or jump to sections on the fly and in sync – whether you're testing out a new arrangement or playing your tracks live. The standard for end-to-end production, only Studio One 5 seamlessly takes you from initial inspiration to full production, from final mixing to album mastering,
What's new in version 5.5.1
Improvements:
● Playing chords now works for multiple chords at the same time.
● [ATOM SQ] Added touch strip to Control Link in device editor.
● [Windows] Added new custom VST3 plugin.
The following issues have been fixed:
● [Apple Silicon] Some shelled AU plugins (such as NI Reaktor) do not listen.
● [Apple Silicon] Rosetta2 shutdown protection is non-linear.
● [macOS] No graphics hardware acceleration for High Sierra (10.13).
● [macOS ≤ 10.15] Ampire causes CPU spikes and drops.
● [macOS] Unable to move individual windows to another virtual desktop.
● [macOS] Unexpected CPU usage with all effects and tools disabled.
● [macOS] No local installation of Notion 6 detected
● The [Mixer] setting of bulk uploads takes precedence over the default behavior.
● [Note Editor] The first note of the chord stack follows the grid instead of the selected note length.
● [Presence XT] Cannot edit steps in Gater
● [Presence XT] Some presets sound different than expected.
● [Pro EQ²] Curves shift when auto gain is switched
● [Pro EQ²] Graphic glitch in LPF/HPF
● [Pro EQ²] New default values ​​are not saved correctly.
● [Pro EQ²] No curves on project page when first loading preset
● [Project Page] Error when replacing sound in a project
● [Project Page] Event name is not called after saving and reopening a project
● [Project Page] Volume information is not updated when clip amplification is used.
● [Project Page] The process may hang when burning a CD.
● [Notepad] Some tempo nodes cannot be deleted.
● [Windows] The application window cannot be restored while running after the window is hidden
by Win+D
PreSonus Studio One 5 – Version History
● Cannot enter Am b13 in the chord selector.
● The chord selector does not detect the A13sus4 chord
● Pressing the minus button on a time signature track may delete events on other tracks in the
certain cases
● The "Create Crossfades" macro argument allows an invalid range of values
​​● The editor is unresponsive and loses dialog focus on the second monitor.
● The focus of the export dialog was lost on the second monitor.
● When loading certain songs, the sheet music editor does not open.
● The leading tone of a minor key is not always sharp.
● Misleading error notifications when playing audio files with PCM signal skips.
● Moving a folder track to another track causes unexpected behavior.
● Pasting in the score editor creates overlapping notes at specific positions.
● The progress bar does not close after content is installed.
● "Event Snap" must be enabled when "Event End Snap" is enabled.
● Sustain is disabled during playback if another track is selected and
follows the selection on
● Velocity values ​​are shifted to the wrong position when Groove Quantize is applied.
● The Scale tool does not scale the image vertically.