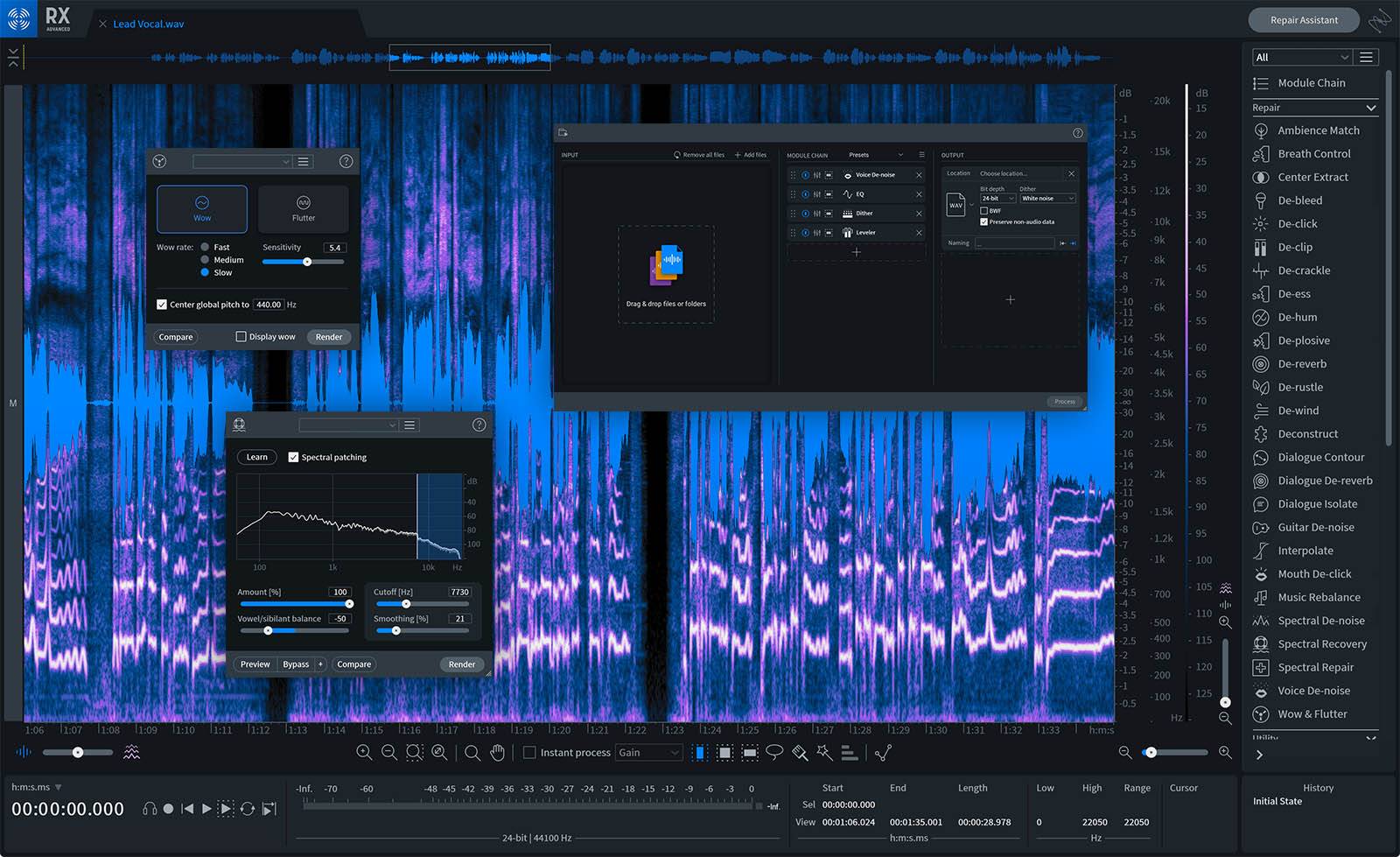 Working with sound in iZotope RX 8 Advanced (2021)Year of manufacture: 2021
Manufacturer:
Profileschool Manufacturer's site: profileschool.ru Author: Arthur
Orlov Duration: 12 hours
Type of material distributed: Video tutorial
Language: Russian Description: iZotope RX 8 will allow you to improve the quality of your sound – speech and vocals, musical instruments and sound design in a few clicks. RX works as a standalone program and as an addition to modern audio and video editing systems and DAW. Tired every time to Google "how to remove noise", "how to remove vocals from the song", "how to restore sound", "how to remove clicks and drool"? There is a solution! RX 8 is a pumped "Photoshop" for sound, which works both in automatic mode and in manual mode, when you need full control over processing. At the same time, it easily integrates with all modern programs for working with sound and video, and its tools work on both win and mac. The tools are designed in such a way that you get the result without going into the theory and technology of the process. Ideally, when you need speed and efficiency, but there is no time to study tons of material on the theory and physics of sound.On the course you will get practice in the program with an individual assessment of your success and analysis of errors, learn to listen and think when choosing a particular tool, understand a clear sequence of actions in each case. The materials include both ordinary speech and vocals, as well as musical instruments, creating exclusive sound special effects for your work. Passing the training, you will receive not only knowledge, but also the experience accumulated by the teacher, consolidation of knowledge in practice with verification of your works and recommendations on what to finish and how.

Content
VIDEO LESSON 1
Introduction to the program
Izotope RX Advanced package and difference from other offerings
Overview of the interface and audio analysis tools
Navigation
Izotope RX works with other programs
Izotope RX Plugins
Program settings for convenient and fast work
Audio recording in Izotope RX
Save an RX file and project
ONLINE LESSON 2
Online consultation
Homework review
Answers to questions
VIDEO-LESSON 3
Restoration tools
Logic and stages of work during restoration
Automatic sound enhancement and processing
Distortion recovery (remove overload and clipping)
Single click removal, algorithms, and automatic modes
Removal of hum, network noise and low-frequency interference
Remove clicks in speech and dialogs
Control the level of breathing (sounds of sighing) in the voice
Correct "explosive" consonants
Remove multiple clicks in automatic mode (old recordings, vinyl)
Remove strong short clicks
ONLINE LESSON 4
Online consultation
Homework review
Answers to questions
VIDEO LESSON 5
Working with voice
Aligning hissing sounds and sibilants in speech
We weaken the sounds of rustling (clothes, etc.)
Clean the recording from the "blowing" of the microphone (wind noise)
Ways to remove broadband noise in voice and instruments
Spectral noise removal algorithm
Pulling speech and tools out of the noise
Separation of different signals by Deconstruct module
Generate ambient sounds and noises
"Photoshop" for sound (Fine work in spectral mode)
Attenuation of reverberation
Equalization and work with frequency balance
Adjusting the spectrum to the standard
Change the speed and pitch of the signal
Mixing module and work with Mid/Side
ONLINE LESSON 6
Online consultation
Homework review
Answers to questions
VIDEO LESSON 7
Effects and Automation
Recovery of spectrum and lost frequencies
Correct the floating pitch of the sound (cassettes, records, etc.)
Automatic volume leveling
Analyze and work with total volume, how to achieve compliance with volume standards
Fade and handmade with levels
Guitar De-noise – guitar processing
Conversion Sample Rate
Balancing, removing (highlighting) vocals and other elements in the mix
Using external effects in RX
Dithering and neusscheping
Quick use of the effect chain
Batch processing of files
Signal generator in RX
Processing in Сomposite mode
Application of Izotope RX for sound design and creation of special effects
ONLINE LESSON 8
Online consultation
Homework review
Answers to questions
Sample Files:
There is
Video Format: MKV Video: AVC; 1920×1080; 16:9; 24 fps; 1361 Kbps
Audio: AAC 2.0; 44.1 kHz; 317 Kbps; 2 channels