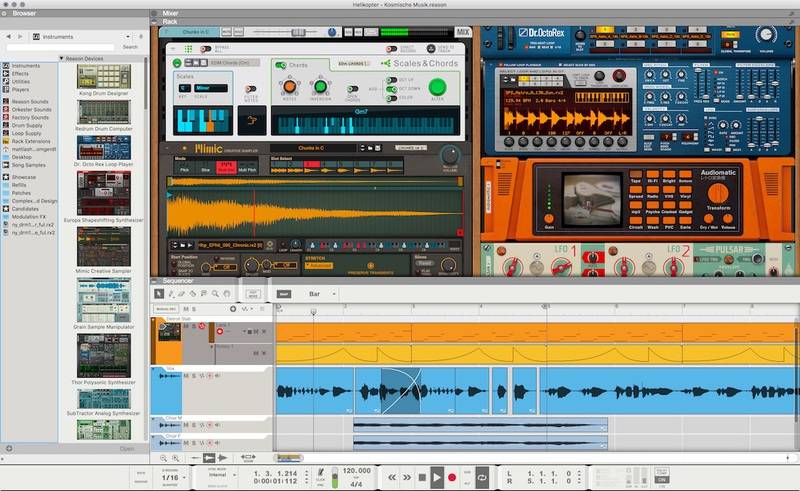 The program received improved Rack Extensions functionality, a redesigned Combinator and a new sampler.
Reason Studios has released a new version of the Reason 12 DAW. The update brings multiple Rack improvements to working with extensions, a new Mimic Creative Sampler, and redesigned Combinator section functionality.
The new version of Reason 12 improves the user experience and expands the list of available features, the developers say. According to the company, the novelty improves the overall usability: for example, the program received a fully scalable interface of the main program window and Rack Extensions add-ons.
It is noted that the entire Reason Rack, as well as extensions from third-party developers, will automatically adapt to display sizes. Users will be able to freely scale windows, increase or decrease plug-in interface elements.
Reason 12 also received a new Mimic Creative Sampler plugin, which, according to the creators, greatly expands the program's sampling capabilities. The novelty combines the power of time-stretching and beat-slicing with a granular synthesis engine, which makes sampling "creative and fun."
The sampler offers four sampling modes – Pitch, Slice, Multi Slot, Multi Pitch. According to the creators, Mimic allows you to create complex multisamples in a few clicks. The plugin interface is simple: all controls, knobs and other controls are brought to the fore.
For a more convenient work Reason Studios has redesigned the functionality of the Combinator tool. For example, the section received more CV inputs and control options, supports more patches and simplifies programming. "Combinator" received improved macros, as well as a new editor for faster creation of interfaces.
The update also affected the browser built into the program and the ability to search the content library. Searching for information now happens in real time, and the DAW displays the results as you type a search query.
Reason 12 also includes a new sound bank. Reason+ weekly packs will also be updated to be compatible with the new features of the program.
What's new in version 12.2.5
Improved browser search
Added option in settings to exclude certain folders from indexing for quick search.
Cloud storage folders are excluded from indexing by default
Search engine now uses less disk space
Faster search and browsing
Changed so that a search requires a minimum of two letters in the search field to run.
Network drive search now works on MacOS
Collapsing device manufacturer categories in the browser is now preserved
Fixed an issue where Reason could hang when searching on the desktop.
Fixed an unwanted delay when switching between searching in the selected folder and in all places.
Fixed a bug due to which sound fonts (.sf2) were not displayed in search results.
Significantly improved graphics performance
Optimization for smarter GUI redrawing
Improved device display performance
Improved the performance of drawing collapsed note tracks in the sequencer.
Fixed an issue where automation curves could display incorrectly in certain situations.
Several graphic fixes
Icons in the browser are now in high resolution
The MIDI Out Device Modifier and Pitch Wheel are now in high resolution.
Fixed a graphical glitch that could appear in the sequencer during playback.
Fixed various minor graphical bugs in RV7000, Thor and VST proxy device.
The Reason logo is no longer low-res in the Companion when upgrading the license.
Fixed an issue with a white line appearing on the splash screen on Windows.
The delay compensation numbers on the transport panel are now correctly positioned.
Fixed potential memory leaks
Improved rendering of text in languages ​​with non-Latin characters.
WAV is now back as the default file format for exporting audio in Windows. It certainly was awkward!
FX devices that automatically create a note track now also get a note track when added as an Insert FX.
Effect devices in the combinator now properly accept notes and a performance controller.
Fixed an issue where selected items in the browser remained selected even after moving the mouse away.
Fixed an issue with the BPM automation and time signature popup menu in the wrong place.
Fixed a bug that could cause an error when loading Combinator backgrounds.
Fixed a bug due to which the midi track was sometimes created above the transport lane.
Fixed an issue that caused players added to a MIDI Out Device to be placed and routed incorrectly.
Fixed an issue where the added player could not automatically generate an ID8 under certain circumstances.
Fixed an issue that caused staggered remote controls to scale incorrectly between the control panels and Reason.
Just checking to see if you're still reading…reading? Darling! Almost done.
Added new remote codecs for several M-Audio controllers.
Improved automatic detection of the M-Audio Oxygen Pro series.
New, Renamed, and Removed Settings Tabs – and Redistribution of Tab Items