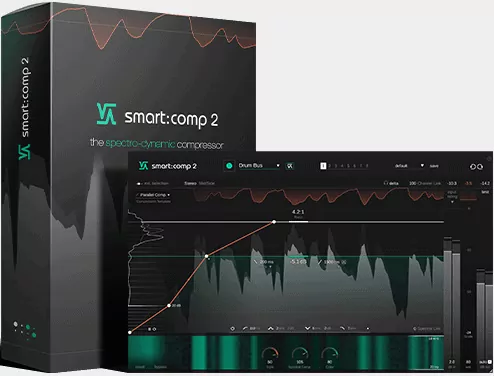 smart:comp 2 automatically produces transparent and accurate results; giving you the creative tools to take your sound from pleasant to extraordinary.
Functions
AI Audio Compression
 –
Incredible Sound – Your Tracks Deserve
Nothing Less AI-powered smart:comp 2 auto-parameterization, spectral compression and sidechain muting aim for the same goal: clean, well-balanced compression results that stay true to your input signal – whether you're working with individual instruments, instrument busses or entire mixes. By analyzing the characteristics of your material, its intelligent processing will increase transparency and preserve important details without compromising signal integrity. With the support of such a sound base, you can go ahead and unleash your creativity.
Inspiration gives more opportunities
 –
Unleash the full potential of shaping dynamics
This exceptionally versatile compressor is packed with features that allow you to give any track its own unique vibe. Gradually shape the character of the compressor with the style bar, and darken or brighten your results with the color bar. The free-form transfer feature with its templates allows you to perform complex level mapping.
Smooth real-time control and monitoring
 –
Everything you need at a glance
Working with smart:comp 2 is simple and intuitive. All the most important compression parameters take center stage and are as familiar as operating a conventional single-band compressor. With input level riding, you can focus directly on shaping your track dynamics instead of worrying about level issues. smart:comp 2 gives you real-time monitoring elements such as instant impact prediction that immediately reflects every parameter change across the entire signal, compression display, and an RMS histogram that describes the overall dynamics of a track.