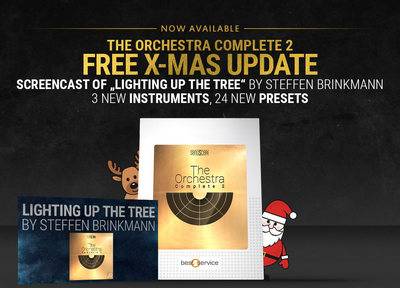 ORCHESTRA COMPLETE 2 is the flagship of our The Orchestra product line, combining the power of the original 80-member orchestra with new articulations and powerful new features. It includes our new HORNS OF HELL tool as well as STRINGS OF WINTER.
With a revolutionary all-in-one package, the sound of a symphony orchestra is at your fingertips. With our innovative ensemble creation engine, we've found an easier way for you to turn your ideas into music.
Playable right away. Fully customizable. Surprisingly simple.
---
---
Update for Sonuscore Library – The Orchestra Complete v2.1 (KONTAKT)
Requires NI Kontakt Player or Kontakt FULL v6.6.0 or later!
---
---
Update 2.2
BRAND-NEW INSTRUMENT: CEMBALO
Go Baroque or go home! It is impossible to complete the chamber orchestras of the 18th century without a Cembalo, or harpsichord. Make your own lively experiments and inventions with our quality recorded instrument. Rendered both as a single NKI and integrated into the ensemble engine.
BONUS MALE AND FEMALE CHOIRS: WHISPERS AND SHOUTS
Options for our choir continue to grow. Now you can add whispers and shouts to your compositions. 11 syllables are assigned to individual keyswitches and there is also a random mode to mix it up.
MORE PRESETS
With an instrument like THE ORCHESTRA COMPLETE 2, the options for instrumentation are limitless. That's why it's sometimes good to start off somewhere solid with one of our new presets.
We've added 24 just for you. 5 more Orchestral Colors, 4 more Orchestral Rhythms, and 15 more Animated Orchestra presets are ready for your use and experimentation.
https://sonuscore.com/toc-2-x-mas-update-2021/