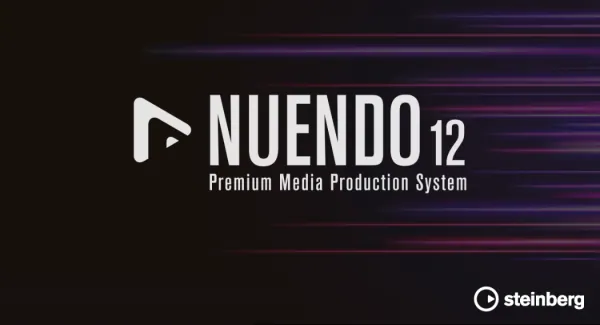 It is very convenient to create, mix, record music by means of the Steinberg Nuendo sound workstation. A rich selection of virtual instruments, the use of advanced technologies and an extensive audio library of ready-made elements for soundtrack design turn the work of sound recording into a creative process that ensures the implementation of ideas of any complexity and guarantees high-quality results. Cubase contains all the necessary tools for developing, mixing and recording sound compositions by beginners, and is also applicable for home use.
1. Install Steinberg Library Manager 3.2.20.exe
2. Install Steinberg Activation Manager 1.4.11.msi
3. Run Setup.exe file in Nuendo 12.0.50 folder and install it
4. Run "Activation Manager Unlocker b4.exe"
November 3, 2022 – The Nuendo 12.0.50 maintenance update is now available, introducing new functionality to the MIDI Remote integration, along with many improvements regarding existing features, the user interface, and stability and performance in general. Please find all details below.
We have improved the following features and functionality:
MIDI Remote
Scripts
We have added new factory MIDI Remote scripts for Akai MIDI controllers:
Akai MPK261
Akai MPK mini mk2
Akai MPK249
Akai APC40 MK2
Akai APC Mini
Surface Editor
We have improved the MIDI Remote Surface Editor in general and added some additional items. Most of the possibilities were already available when writing a MIDI Remote Script via the MIDI Remote API. Now the Surface Editor allows you to create surfaces which can visually resemble your actual MIDI Remote Controller hardware more closely.
Adding MIDI Controller Surfaces
When adding a new MIDI Controller Surface, it is no longer mandatory to select a MIDI output port. Surfaces created this way cannot receive messages back, thus the "Transmit to Hardware" option in the Properties section for items won't be available.
Placement of Items, MIDI Learn and Properties
Placement of items is now possible without the need to learn incoming MIDI messages first.
Use the "+" button in the top/right corner of an added item to place it without the need to learn an incoming MIDI messages.
Once done, use the Properties section to set up a Message manually.
Message fields now allow to open a MIDI Monitor pop-up. This can be used to pick up a specific incoming MIDI message and helps for hardware controls, which may send multiple messages for controls.
On the toolbar, you can bypass the MIDI Learn function. This can be useful if your MIDI Remote Controller hardware tends to send erratic messages which messes up the MIDI Learn procedure.
Essentially all parameters of placed items can now be edited in the Properties section afterwards.
Additional Surface Editor Items
The following items are now available in the Items list on the left side and have corresponding Properties:
Pitch Bend and Modulation Wheel
X/Y Pad, X/Y Joystick (Requires a pair of messages for X and Y axis, which can be picked easily using the MIDI Monitor pop-up.)
Push Encoder (Similar to a Knob item but has an additional parameter to set up the "Push Value" message)
Piano Keys (Is meant to be used as a decorative element with adjustable keyboard range Note: You cannot map host parameters to this item.)
Lamp
Blind Panels (Is meant to be used as a decorative element for controls available on your MIDI Remote Controller hardware but which cannot be addressed by MIDI messages. Note: You cannot map host parameters to this item.)
Shape Setting in Properties
Buttons, Blind Panels, and Lamps can be set up to either use a rectangular or circular shape in the Properties section.
Fader Orientation
Faders now automatically adapt to be shown as either vertical or horizontal items, depending on how you resize them.
Label Fields
Items can be set up to include an additional Label Field.
Click atop a selected item to create one.
This can be done for individual items or a multiple selection of items which should be grouped together. (Simple Example: Create a Fader, add a Label Field, and map it to "Volume" from "Selected Track" in the Functions Browser of the MIDI Remote Mapping Assistant. The Label Field of this Fader will now show and adapt its name according to the selected track in the Project window.
Other Improvements
Item cursor and already placed items can be properly clicked and dragged around.
Items without properly configured properties are marked in orange (If items do not have a MIDI Message properly configured or if you attempt to assign a message which is already in use by another item, these will be marked and discarded when leaving the Surface Editor.)
Item list on left side and Properties section on right side are scrollable now.
Individual items in a multi-selection of items are now properly highlighted.
ADR
The filters in the Markers window are no longer reset after editing marker attributes.
Video
When muting one of two video tracks, the video picture now switches to the other track.
Video playback now properly follows the active Arranger Track chain.
When nudging transport framewise, the video frame is now shown correctly.
Plug-ins
Anymix Pro now applies the correct pan law and no longer causes irregular sound when panning.
In the Frequency plug-in, the dynamic start is now displayed correctly.
Frequency values ​​are now stored correctly in a saved project.
The MultiTap Delay Pitch Shifter module now fully mutes unprocessed signals when set to 100% wet.
In the VST Amp Rack and VST Bass Amp plug-ins, the order of effects can now be changed as expected
Miscellaneous
Playing automation data with Bezier curves in Cycle Mode will no longer produce audible artifacts.
After recalling Output Bus presets in the Audio Connection window, the Main Mix audio signal is now audible in the Control Room as expected.
On events with phase-coherent AudioWarp applied, the Bounce Selection function can now be used as expected.
Using the Size with Fade edit modifier now changes the fade end point as expected when a range selection is present on the track at the same time.
The modifier Size with Fade now editing gives visual feedback as expected when the Combine Selection Tools mode is active.
We have improved the Export Audio Mixdown performance when exporting files at a different sample rate than the project.
Insert effects are now applied correctly, when linked audio tracks are frozen.
Importing split wave files by drag and drop now creates tracks with correct channel width.
Insert plug-ins now process audio if their track was created automatically by dragging audio files to blank space.
In the Sample Editor, VariAudio note segments are now displayed as expected.
When changing the page setup for printing scores, the page display is now displayed as expected.
MIDI event positions are now displayed accurately in the Project window.
Stability
We have improved the stability when a Tempo Detection session is ended by just changing to another tool.
We have improved the stability with automation on group track parameters.
We have improved the stability in Dolby Atmos projects with faulty object configuration.
We have improved the stability when loading large projects with several hundred Offline Processing edit files.
We have improved the stability when importing the same tracks twice from projects or track archives.
We have improved the stability when enabling the Regions panel in the Sample Editor while having the option Auto Select Events Under Cursor active.
We have improved the stability when deleting frozen tracks.