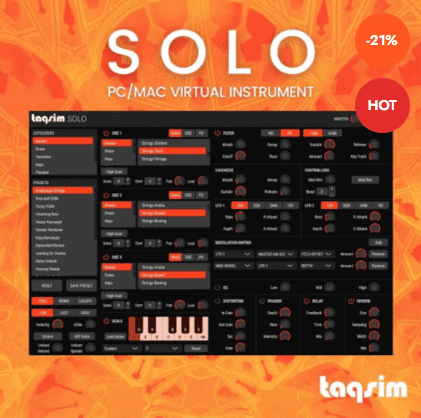 Welcome to SOLO by TAQSIM, a new virtual instrument that authentically recreates the sound of modern world music.
Whether it's playing presets quickly, tweaking sounds, tweaking complex modulations, or trying out unique microtonal scales, SOLO is designed to be easy to use. We partner with musicians and producers from all over the world to include a library of authentic sounds to help you stand out from the crowd. If you want to learn more, you can import your own multisamples into SOLO.
Welcome to the new world of sound.
Add. information :
Enjoy full licensing emulation of the TASQ.IM Authorization Server!
Our emulator is less than 10 KB, it will load instead of the WININET DLL just for this plugin.
Faster, cleaner, safer
———————————
Solo has a serious problem, which causes the plugin to crash when loading presets.
Here's what happens:
1. Solo gets the TEMP folder by calling GetTempPathW.
2. Solo attempts to delete ALL FILES AND FOLDERS in the TEMP folder. If there was nothing in TEMP, the TEMP folder will also be deleted.
3. Solo extracts samples to TEMP when loading presets. If TEMP is removed in step (2), it will fail!
We fixed this error by injecting the code and the emulator. Your TEMP folder is now safe.
No crashes will happen because of this glitch.