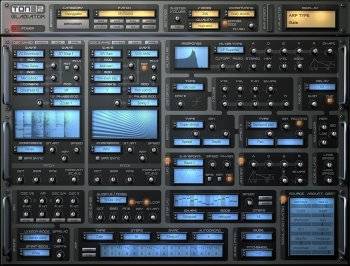 Distribution updated! Replacement for the FIXED version, which eliminated the errors that led to the sudden crash!
The award-winning Gladiator is a popular synthesizer used in a wide variety of professional productions. It provides an innovative approach to sound generation. His exclusive HCM synthesis spans new and unique acoustic territory.
Overview
Innovative, new synthesis method (HCM ™)
Unique sounds that no other synthesizer can create
Huge sound range
Highest quality: warm, crystal clear and rich sound
One of the most successful software synthesizers
Has been used in a large number of films and charts …
Various synthesis methods can be freely combined.
40 filter types and 37 effects included.
You can choose from four different interface sizes.
Unlimited possibilities
Psychoacoustic processing
Low processor and high reliability
More than 1200 sounds from professionals
Handbook in 5 languages
Good value for money
Flexibility, extensibility
Synthesis
Gladiator is a very powerful synthesizer that supports a comprehensive list of synthesis methods. Most synthesis types can be freely combined to create exciting new sounds. Synthesis types supported by Gladiator:
Tone2 Exclusive Harmonic-Content-Morphing ™ (HCM) Technology
Frequency Modulation (FM)
Pulse Width Modulation (PWM)
Subtractive
Resynthesized Instruments Vocoder
Sounds
Oscillator Timing
Phase Distortion
Amplitude Modulation (AM)
Phase Modulation (PM)
Waveform
Super-Saw
Spectrum
Sampled Noise and Clicks
Unison
How does HCM synthesis work?
The award-winning HCM synthesis is exclusive to Gladiator and not available to other companies. It is based on a wide range of thrilling waves, wavetables, resynthesized samples, voices and natural sounds. The harmonic structure can be changed using 10 modules and 132 different algorithms to change the sound. The powerful randomization feature lets you create an unlimited number of musically useful and unheard sounds with one click!
Gladiator supports up to 18 oscillators per voice with layering, 4x stereo unison and crystal clear sound quality.
Gladiator 3.1 is backward compatible with all previous versions. All existing song projects and patches can be loaded without any additional steps.
New opportunities:
Added VST3 version.
You can choose from 3 different installation types: minimal (VST2 only), standard (VST2 + standalone), and complete (VST2 + VST3 + standalone).
A Microsoft-approved certificate has been added to the installer.
Improvements:
Smarter VST2 path definition.
Higher performance, faster loading and faster saving.
Updated some links.
Slightly improved reverb sound.
More accurate timing at 44 kHz.
More linear frequency response for very high frequencies.
FreebeiHost.cfg and the .log file are no longer generated in the VST2 directory.
New Features (Standalone Version):
Added a voice recorder that can export a jam session to a wav file.
BPM speed can be changed.
Added soft clipping algorithm with low harmonic distortion.
The current patch can be saved on exit and automatically reloaded on startup.
MME driver support.
Midi-through support with output routing.
Added Midi velocity curves with multipoint splines.
Optional Midi transposition up to + -48 semitones.
Additional filtering of the Midi channel.
The current RPM, CPU load and volume are displayed on the top bar.
Tooltips are displayed on the top bar.
Improvements (standalone version for PC):
Lower latency for sound card drivers.
More responsive graphical user interface with 120Hz refresh rate for smoother stick movements.
Many small improvements.
Changes:
Microsoft has dropped support for 32-bit Windows. As a result, we will no longer provide updates for it. If you are still dependent on it, you can install v3.0 instead.
FIXED: Some sections in previous
release are patched badly. It
does not revert some registers.
As a result, it randomly crashes
when the program reaches that
sections.