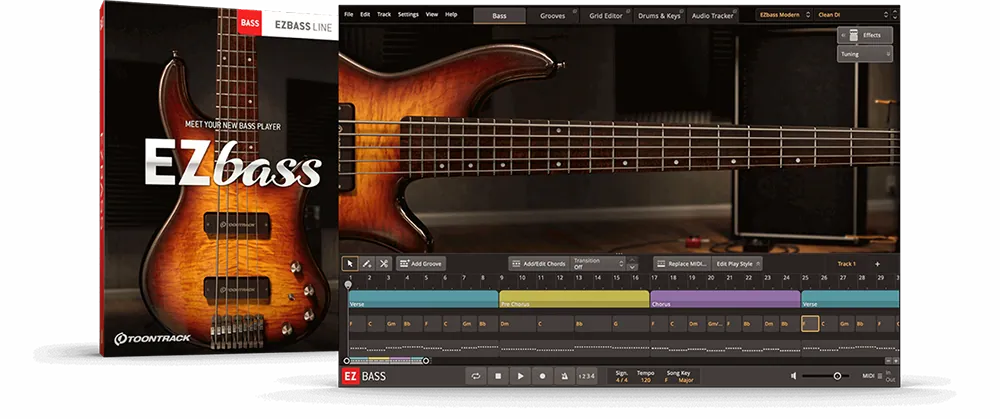 EZbass is a virtual bass instrument with great sound and fundamental features that make it easy to add a bass guitar to your tracks. The instrument promises the same level of convenience and flexibility, as well as sound quality and realism, found throughout the EZline line. The Virtual Bassist combines MIDI work with advanced bass writing skills in various styles of music.
The sample libraries support a variety of articulations, including legato, vibrato, slides, hammers and pools, harmonics, and more. EZbass has an integrated effects section, consisting of emulations of bass amps and cabinets, as well as stompboxes and rack effects.
There is also an extensive library of grooves. All MIDI parts are recorded with the highest attention to the nuances of performance. The grooves are divided by style, while the library engine adapts the grooves to the tone of the project.
---
Installation is possible on a "clean" system, or over a previously installed version.

Release notes for EZbass 1.1.8
---
CHANGES
General
Added support for MIDI drags from EZkeys 2 (to get the correct chords).
"About Sound Libraries" has been removed from the Help menu since the About dialog contains the same info.
Song Track
Chords (without MIDI) can now be dragged between different instances of EZbass.
Standalone
An auto-recovery dialog will now be shown at startup if EZbass has crashed and auto-saving was on.
---
BUG FIXES
General
Dragging EZbass MIDI from Finder/Explorer to EZbass would not always result in correct chords.
How to add additional libraries?
Copy the folder with the library ( 
EZB 

is the name of the library
 ) to the directory where the EZbass factory libraries are located.
Default path (for Windows users): 
C:\ProgramData\Toontrack\EZBass\
Default path (for Mac users): 
Library > Application Support > EZbass