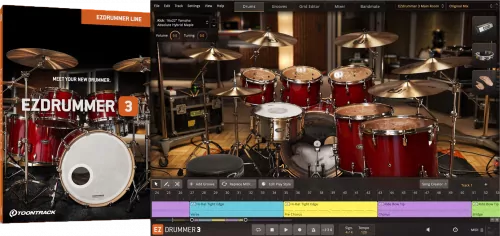 EZdrummer 3 gives you creative options for a complete set of easy-to-use features that allow you to create full-fledged drum parts. Ready to write some songs? Meet your new drummer.
---
Installation is possible on a "clean" system, or over a previously installed version.
Download factory library for EZdrummer 3 here
What's new?
Release notes for EZdrummer 3.0.5
---
CHANGES
General
Added high-resolution graphics for several menu icons and buttons, etc.
Improved readability of the main tab labels and improved color cohesiveness with tab content below selected tab.
Grid Editor
A new articulation row called "Choke (Stop Playing)" has been added for each instrument that responds to aftertouch. The poly-aftertouch editors have
been removed.
Moving the playhead in the song track now scrolls the Grid Editor to show the playhead, unless the Auto-Scroll option is off.
E-Drums
The hi-hat splash feature has been improved in order to remove unwanted hi-hat splashes. The hi-hat now has a time window, within which the pedal needs
to have been raised after a "Pedal Closed" hit in order to generate a splash.
Settings
On Windows, there is now a setting to invert the horizontal scroll direction when shift+wheel is used.
---
BUG FIXES
General
Some (few) EZX presets would for some instruments cause a high-pitched noise at low buffer sizes.
The current library preset was not marked with an asterisk if a mixer knob was turned.
Printing the MIDI layout with the plug-in scale being other than 100% would cause some texts to be incorrectly positioned and sometimes truncated.
Quitting certain hosts when the VST 3 plug-in had been used could cause a crash.
The setting "Keep on Preset Change: Output Routing" was never saved in preferences.
Loading a project at the same time as the host was changing the plug-in parameters could potentially cause a crash.
Changing libraries or loading a preset did not make the host get properly notified that parameter values ​​(mixer knob values) had changed.
Drum Tab
Trying to load an audio file on a cymbal or a tom would crash the program.
Importing an audio file to an instrument with "Keep on Preset Change: Output Routing" active would make the instrument silent.
It was not possible to switch to the Drums tab while dragging an audio file (by hovering on the tab).
Grooves Tab
Fixed some cases where the "Clear All" button wasn't hidden when no filters were active.
Setting the velocity slider to something other than 0 and selecting a different groove would make the filter always say "+127 Velocity."
Mixer Tab
Setting a channel output to None, saving and loading the project would cause the channel to completely disappear.
Song Track
Recording onto a song block with a user-defined Song Part (a custom color) could cause a crash.
While recording, notes did not appear graphically on the red block.
While recording, moving the playhead before the beginning of the red block would graphically start a new block instead of extending the existing one.
The time signature editor did not support keyboard shortcuts for copy/paste.
After dragging a groove from User MIDI, "Remove Groove Part" did not work on the block.
The Auto-Scroll setting was never saved in preferences.
The Count-In setting was never saved, it is now saved in the project (like Metronome on/off).
Edit Play Style
Pasting notes on the tambourine or shaker pad should no longer cause a crash.
Audio Export
On Windows, the disk space check could not correctly handle more than 4 GB free, so you could "randomly" get a false not-enough-disk-space error.
Channels routed to "None" are no longer shown in the stem selection list.
Deselecting stems to be exported did not work correctly.
E-Drums
Changing libraries with an e-drum preset active could in some cases result in incorrect mapping for some notes/instruments.
Floor toms in Hard Rock EZX and Rock Solid EZX were not mapped correctly with some e-drum presets, for example TD-50.
Standalone
On Windows, the splash screen no longer has a drop shadow because it didn't look good with the rounded corners