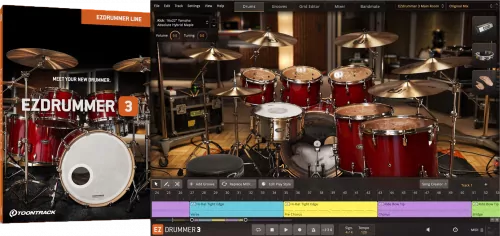 EZdrummer 3 gives you creative options for a complete set of easy-to-use features that allow you to create full-fledged drum parts. Ready to write some songs? Meet your new drummer.
---
Installation is possible on a "clean" system, or over a previously installed version.
Download factory library for EZdrummer 3 here
What's new?
Release notes for EZdrummer 3.0.1
---
CHANGES
General
In the File menu, "Import EZdrummer 2 Project…" has been moved up to just below "Open Recent."
Added high-resolution graphics for more buttons, etc.
Grooves Tab
In Tap2Find, "Quantize" has been renamed to "Resolution" and a "Swing/Triplets" header has been added in the menu.
bandmates
The text has changed in the main Bandmate drop zone to emphasize that audio files with distortion, for example, may not produce optimal results.
"Swing/Triplet" was changed to "Swing/Triplets" in the Filters menu.
---
BUG FIXES
General
Loading the plug-in in Cakewalk could cause a crash.
Pop/Rock EZX was not shown with the new graphics with larger background.
The ride in Americana EZX did not look right at 70% scale.
When an EZX is loaded and is missing drum graphics, an alert is now shown to inform that the EZX needs to be updated or reinstalled.
In REAPER on Windows, it should now be possible to drag MIDI from DAW tracks (by holding ctrl+alt) directly to the plug-in.
In Studio One, it was not always possible to drag audio (of supported formats) from DAW tracks to the plug-in. (PreSonus Audioloop/Musicloop is still not supported.)
Trying to load an EZX (or a project that uses that EZX) which has no drum graphics (and thus needs to be updated or reinstalled) should no longer cause a crash.
Song Track
Recording MIDI while having the grid editor open caused a crash.
Drum Tab
When previewing an instrument, the first hit would sometimes get the wrong pitch.
Previewing hi-hats from another library would sometimes cause a crash.
Grooves Tab
The e-drum preset indicator was never shown on third-party MIDI folders (those that have been installed in the same location as Toontrack MIDI libraries).
Grid Editor
The Humanize on/off state was not saved in projects.
The Humanize on/off state was reset when a different EZX was loaded.
When Humanize is off, the previous bar is no longer used as template for velocities when notes are inserted.
bandmates
Trying to load broken/empty/unsupported audio files should no longer cause crashes.
Custom song parts are now handled better in the Bandmate.
Using the Bandmate with Latin Percussion EZX loaded could cause crashes.
Dropping a new groove on the Drums track while the browser was searching could cause crashes.
Changing the playhead position with keyboard shortcuts only changed it graphically.
Dragging the Bandmate output groove out from EZD3 (to the desktop, eg) and then trying to load another groove in the browser could cause the text "Loading groove…" to become stuck.
E-Drum Settings
CC values were not shown unless explicitly specified in the presets. Now all mapped CC values are shown.
CC values could be written as keys when they had been edited.
Opening the menu for an articulation under Mapping and then clicking on a different drum or switching between Key and Note Number could cause a crash.
Standalone
When the standalone is started, if the main window with its previous position and dimensions doesn't fit on the screen, it is now moved and resized as necessary.
On Windows on a display with a scale larger than 100%, parts of the window contents could be cut off and menus would open at wrong positions.
On Windows, it was possible to launch more than one instance of the standalone.
installer
On Windows, the standalone was installed in an unexpected directory on some localized systems in some circumstances.
On Windows, the installer will now detect that the core library is not yet installed and display a reminder.