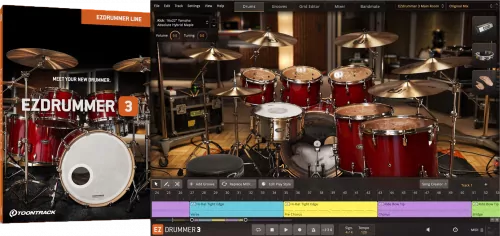 EZdrummer 3 gives you creative options for a complete set of easy-to-use features that allow you to create full-fledged drum parts. Ready to write some songs? Meet your new drummer.
For mac drivers: If Installer and Updater do not start , replace them with these versions of Installer and Updater
Installation
1. Install EZdrummer 3
2. Install EZdrummer 3 Core Library
3. Install EZdrummer 2 Core Library (if necessary)
FAQ
Q: I have an older version of EZdrummer. Will I automatically receive a free update?
A: EZdrummer 3 is not a free update, it's a brand new program that includes many new features as well as a new core sound and MIDI library.
Q: What will happen to my already installed Toontrack EZX and MIDI packs when I upgrade to EZdrummer 3?
A: All your already installed EZX or Toontrack MIDI packages will be available through EZdrummer 3. However, you will need to download and install updates.
Q: What will happen to my previous version of EZdrummer?
A: EZdrummer 3 does not overwrite the earlier version you have installed.
Q: What will happen to projects where I used an earlier version of EZdrummer?
A: EZdrummer 3 does not overwrite previous versions. Until you uninstall the previous version, your old projects will remain intact.
Q: Can the EZDrummer 3 EZX libraries (and future libraries) be used in Superior Drummer 3?
A: Yes, after installing the appropriate updates, Superior Drummer 3 can read all existing and future EZX libraries.
Q: Can EZdrummer 3 read Superior Drummer SDX sound libraries?
A: No, EZdrummer 3 can only read EZX libraries.
List of distributions of EZX libraries