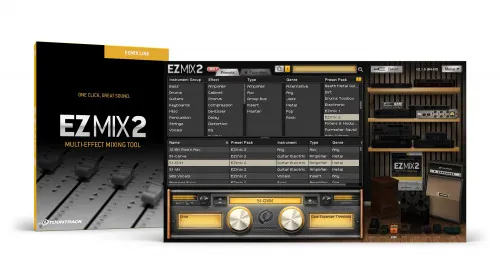 EZmix 2 is a multi-effects plug-in that allows you to assign professionally designed audio processing effect chains to any audio source. Guitar amplifier, mixing engineer and mastering kit in one convenient package.
---
Installation is possible on a "clean" system, or over a previously installed version.
---
The following presets are being sought for the full set :
Al Schmitt
Ambient Delays
Ambient Reverbs
Buses & Masters
Cinematic FX
Cinematic Guitars
Filters & Modulation
Guitar Tone Palette
Heavy Metal Guitars
Metal Fundamentals
Michael Ilbert
Soundscapes

What's new?
Release notes for EZmix 2.2.4
New:
Added native Apple silicon support to the AAX.
fixed:
One of the EQs would not work correctly in certain cases. It should not have any noticeable effect on existing presets and projects, it's mainly a fix for future presets.
List of presets included in the distribution
Alternative Rock version 1.0.0
Ambient version 1.0.1
Amps version 1.0.0
Andy Sneap version 1.0.0
Bass Toolbox version 1.0.0
Big Rock Guitars version 1.0.0
Blues Guitars version 1.0.0
Bob Rock version 1.0.0
Chuck Ainlay version 1.0.0
Classic Amps version 1.0.0
Colin Richardson version 1.0.0
Compression & Saturation version 1.0.0
Core Expansion version 1.0.0
Country Guitars version 1.0.0
Death Metal Guitars version 1.0.0
Dirt version 1.0.0
Drums Toolbox version 1.0 .0
Electronic version 1.0.0
Forrester Savell version 1.0.0
Indie Guitars version 1.0.0
JamTrack Amps version 1.0.0
Jazz & Fusion Guitars version 1.0.0
Lead Vocals version 1.0.0
Lead Vocals 2 version 1.0.0
Lo-Fi version 1.0.0
Mark Lewis Metal Tones version 1.0.0
Mark Needham version 1.0.0
Mastering version 1.0.0
Mastering II version 1.0.0
Metal version 1.0.0
Metal Amps version 1.0.0
Metal Bass Beasts version 1.0.0
Metal Essentials version 1.0.0
Metal Guitar Gods version 1.0.0
Metal Guitar Gods2 version 1.0.0
Metal Guitar Gods3 version 1.0.0
Metal Guitar Gods4 version 1.0.0
Mick Guzauski version 1.0.0
Modern Metal Guitars version 1.0.0
Modern Pop/Rock version 1.0.0
Neil Dorfsman version 1.0.0
Peter Henderson version 1.0.0
Randy Staub version 1.0.0
Reggae version 1.0.0
Rock version 1.0.0
Rooms And Verbs version 1.0.0
Songwriters Tools version 1.0.0
The Mix Toolbox version 1.0.0
Voca lToolbox version 1.0.0