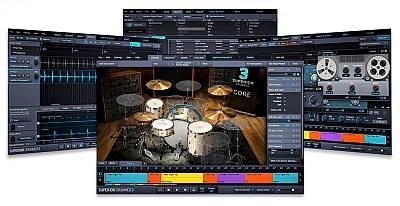 The third part of a large 230 GB library for Toontrack – Superior Drummer 3 – "Room Mics 2 – Surround (5 ch)" (extra mics to achieve 5.0 surround, Front L/R, Center and Surround L/R)
Other parts (4 and 5) are promised:
Part 1: "Basic Sound Library" (All instruments, all tools and all articulations in close mics, OH Dyn and Amb Ribbon .Bleed in Snare Bottom (Kick and toms), Approx.estimate 40gb)
Part 2: "Room Mics 1" (The rest of the Room mics: OH Cond, Amb Near, Amb Mid).
Part 3: "Room Mics 2 – Surround (5 ch)" (extra mics to achieve 5.0 surround, Front L/R, Center and Surround L/R)
Part 4 : "Room Mics 3 – Height Surround (6 ch)" (extra mics to achieve 11.0 surround, Front Height, Rear Height and Rear Height Wide )
Part 5 : "Extra Bleed" (The rest of the bleed in the close mics). This installation can be installed at anytime after the initial Basic Sound Library (Download 1).
Since setup files are no longer allowed in library distributions, they have been removed. You can download them 
HERE
 . There are Sound Updater WIN.OSX files. They will need to be placed in the SL-SuperiorDrummer3 SDX Part3 folder of this distribution and run. They will add this third part to the already installed first. The process will take over 4 hours.
WILL MY PREVIOUS SDX WORK IN SUPERIOR DRUMMER 3??
Yes! All SDX libraries will work as usual in Superior Drummer 3. In addition, they have all been updated with new graphics for the Superior Drummer 3 format. The only exception is the original DFH Superior 1 library. This library is not compatible with Superior Drummer 3.
WILL MY S2.0 PRESETS WORK IN SUPERIOR DRUMMER 3?
All presets can be loaded into the new Superior Drummer 3 software.
WILL ALL MY MIDI WORK IN SUPERIOR DRUMMER 3?
Yes, all MIDI from any source or installed Toontrack MIDI, EZX or SDX package will work in Superior Drummer 3.
WILL SUPERIOR DRUMMER 3 REMOVE SUPERIOR DRUMMER 2 INSTALLED?
After the release of Superior Drummer 3, Superior Drummer 2 will no longer be sold. However, installing Superior Drummer 3 will NOT remove Super Drummer 2 from your system. You can use both programs on your computer at the same time. This means that any old projects you created with Superior Drummer 2 will not be affected in any way.
IS IT MANDATORY TO INSTALL THE FULL 230 GB LIBRARY?
No, the entire sound library is divided into 5 parts that can be installed separately (depending on your needs). In this case, the base part must be installed.
The Superior Drummer 3 sound library has been written in such a way that it is compatible for sound output in different formats. In particular, this means that engineer George Massenburg placed several additional microphones in such a way that 2, 5, 7, 9 and 11-channel systems could be obtained. Toontrack understands that most users don't have multi-channel systems in their studio, so for casual users, the multi-channel environment found in a mixer may simply be output through your two speakers. So if your setup has two speakers, every channel in the mixer will work for you (they will all be output through your stereo speaker set)! If you have a surround setup, all channels in the mixer will also work for you,
WHAT IS .1 IN MULTICHANNEL SYSTEMS?
This is common industry terminology for the LFE (Low Frequency Effects) channel. The LFE channel is a channel that is dedicated to low frequency audio information only, which is within 120 Hz. To use a .1 LFE channel, the engineer creates a send (on channels with low frequency information below 120 Hz) and sends the desired number of those audio channels to the LFE channel.
The analog to how the .1 LFE channel is used would be reverb. A common practice is to insert a reverb plug-in on a bus (aux) channel and then send a percentage of the user-selected audio channels to that reverb bus, instead of sending all 100% of the signal to the reverb bus. This is how a .1 LFE channel works when mixed in surround mode. The engineer selects the volume of the audio channel that is sent to the .1 LFE channel. At the output, this channel is most often reproduced by a subwoofer.
For these reasons, the samples were not specifically recorded as a .1 LFE channel. If you are mixing to the surround then you must select the channels you wish to send to the .1 LFE channel, just as you would select the channels you wish to send to the reverb bus.
WILL THE PREVIOUS SDX LIBRARIES BE COMPATIBLE WITH A MULTI-CHANNEL MIXER?
No. Previously released SDX libraries will only contain the number of channels they were released with.
WHAT TYPE OF AUDIO FILES CAN BE USED WITH THE NEW TRACKER TAB?
The built-in standalone audio to MIDI converter, known as the Tracker tab in Superior Drummer 3, works with drum audio files in WAV, AIFF, FLAC, OGG and MP3 formats. Tracker works like a multitrack system. Thanks to an intelligent instrument recognition system, Tracker can also extract several different individual instruments from a single audio file (for example, a mono or stereo mix from a drum kit). Tracker can recognize six instrument classifications: kick, snare, hi-hat, ride, toms and cymbals.
HOW DOES SUPERIOR DRUMMER 2 AND 3 DIFFER?