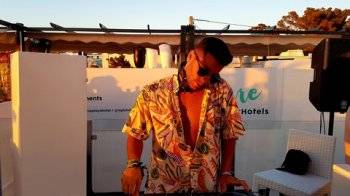 How To Develop Your Workflow, Sound, Results, Understanding Of Music Theory, Marketing, Distribution of Music And More.
Calling all passionate, aspiring and existing music producers!!
A must-buy comprehensive guide on how to master Music Production and the music industry from a mastering engineer, Mentor and a label owner.
This course shows that you don't need the technical skills or music theory knowledge to be proficient in Music Production.
Omar Meho is a resident DJ in Ibiza, France & U.K. he has played festivals in front of 12,500 people, he regularly records mixes for the BBC and has had his own tracks aired on International Radio multiple times. he will teach you how he has made over 400 tracks in the past 8 months as a Music Producer, Audio Engineer, and Mastering Technician. He runs his own record label Atmos Tempo Records and has signed his own successful E.P's and Albums to over 10 record labels at the same time. Having plays on BBC Radio 1 and support from some of the world's top DJ's and producers including Marco Carola, Jamie Jones, Adam Beyer, Guti, Chris Stussy, East End Dubs & more.
This course comes with exclusive learning content, full-track templates, sample packs and project files which will help you master and understand Music Production much faster with great depth!
After a fantastic reception to Omar's one-to-one Mentoring Omar has decided to launch this course.
This is the right course for anyone looking to learn Music Production.
Learn invaluable lessons from Omar's comprehensive Music Production Guide.
It can be done, by using this guide by Music Production Mentor Omar Meho.
With over 15 hours of video content and loads of bonus content, this is a fair price for the course and is arguably the best Music Production course on Udemy in terms of insight and knowledge.
There are six of these videos and each is an insightful glimpse into the workflow of a successful producer which you will find nowhere else.
The course is a must for a new Music Producer.
This Music Production Course includes everything you'd need to start your music production journey and more!
With a network of successful producers around him, Omar can give relevant and proven hidden strategies on how to survive in the music industry, penetrate the market and get into the Beatport Top 100 Minimal/Deep Tech Charts. If you want to learn more about Ableton or become a master of your own fate. Some of the Genre's covered in this course include: House, Tech House, Deep House, Micro House, Minimal House, Garage.
If you are an aspiring EDM producer and you want to learn ableton or improve your existing skills whilst learning new ones this course is the one for you. Omar will provide you with game-changing project files, templates and samples which will revolutionise the way you use Music Production. Comprised of 40 Lectures, each contains invaluable content which you will find nowhere else and the hidden-gems included in this course will also give you the upper-hand and advantage over other producers in the industry who haven't seen this course.
Including incredible templates which will revolutionise the way you work for the rest of your life, Omar shows you how to finish a track using only MIDI in 10 minutes, which is a truly breathtaking experience you must watch, the track has been signed to a record label!
Join a group of like-minded individuals and collaborate via our facebook group, included at the end of the course.
This interstellar course includes 70 lectures:
Beginner Level
– Audio interface
– Arrangement
– Bass Processing
– Automation
– Midi
– Audio
– Sidechaining
– Compression
– Saturation
– EQ
– Max For Live
– Finishing Touches
– Reference Tracks
– How to finish tracks in 15 minutes
– Useful Free VSTs
– LFO
– How to make a track from start to finish
Advanced Level
– Mixdown
– Mastering advice
– MIDI Mapping
– Branding Techniques
– Customising parameters in external VST's
– Organisation in Ableton Live 10's Browser
Expert Level
– Understanding different music genres
– Methodology of Ableton
– Sample packs
– Camelot Wheel – Mixing in key
– Creating artwork for your tracks
– Distribution to Spotify, Beatport, iTunes
– Marketing your music to record labels
– Pitch Envelope
Extras
– Learn from someone with 10+ years of experience
– Learn from someone who runs their own record label, makes their own artwork, manages their own distribution and marketing
– Sample packs
– Project Files
– Templates
– Presets
– Full-track breakdowns
– Email templates
– VSTs
– Community invites + events!
– Recommendations
– A chance to see how someone else's workflow
– MP3's to use as a Reference Track
– Charts
– Diagrams
– Unique advice
– Mastering advice
– Never before seen strategies
– Useful Industry-secret Websites
– Opportunity for 1-to-1 Lifetime Mentoring from Omar.
– Opportunity to get signed to a record-label
– Opportunity for Remix competitions
– Comes with Sample Pack and Mastering Support.
– Get A Template for making Sample Packs!
– Learn How To Make Sample Packs!
– Includes Xfer Serum Presets!
– Audio Effect Racks!
– E-book!
– EQ Presets!
– Includes Mastering Rack!
Boost Your Music Production Skillset.
Broaden Your Knowledge.
Expand Your Musical Network.
Enjoy Expert Tuition!
What you'll learn:
•How To Speed Up Your Workflow.
•Learn How To Create Spectacular Music In Ableton Live 10.
•Learn How To Be A Professional Ableton Live 10 User.
•How To Build Your Own Track From Scratch In Ableton Live 10 In A Day.
•Learn How To Avoid The Pitfalls Of The Current Producer.
•Learn How To Finish More Music Quickly and Effectively.
•Learn The Tools You Need To Be Successful In The Music Industry!
•How To Stay Competitive And Finish More Tracks.
•Learn How To Arrange Music.
•How To Market Your Music Using Various Tools, Strategies And Tactics.
•How To Pitch Your Music To Spotify Music Playlists.
•How To Approach More Record Labels And Where To Find Them.
•How To Distribute Your Music to Major Stores Successfully Such As: Spotify, Beatport, Apple Music, iTunes Etc.
•Learn How To Improve Upon Existing Skills In Ableton Live 10 And Music Production In General.
•Learn How To Master The Main Audio Effects And MIDI Effects In Ableton Live 10.
•Understand How To Utilize Your Time In Ableton Live 10.
•Learn How To Make Your Own Artwork And Helpful Creative Techniques.
•Learn About Automation And How To Create Automation Shapes
•How To Make A MIDI Only Track In 10 Minutes.
•Learn How To Finish More Projects And Be More Organised In Ableton Live 10.
•Learn How To Understand Reference Tracks And Their Benefits.
•Learn How To Utilize And Understand Max for Live And It's Useful Tools.
•Learn Where To Find Unlimited Sample Packs.
•How To Map Your Hardware In Ableton Live 10.
•Learn How To Use The MIDI-MAP In Ableton Live 10.
•Learn How to Maximise Your Spotify Revenue.
•Learn How To Use Send And Return Tracks.
•Learn How To Understand Your Global Demographic In The Music Industry.
•Learn Marketing And How To Pitch Your Music To Record Labels.
•Learn How To Find Your Own Music Production Mentor.
•Learn How To Be As Productive As Possible In Ableton Live 10.
•Learn How To Mix In Key.
•Learn About Mixing And Mastering.
•Learn Advanced Techniques Found Nowhere Else On The Internet.
•Learn How To Make Professional Sounding Music.
•Learn How To Boost Your Confidence As A Music Producer.
•Learn How To Sign To A Major Record Label.
•Learn How To Expand Your Profile.
•Learn About The Music Industry.
•Learn About All Areas Which Factor Towards Success From Music Production To Marketing And Distribution.
•Learn How To Produce Music Much Faster.
•Revolutionize The Way You Use Ableton Live 10.
•Learn Bespoke Ableton Techniques To Help Create An Unrivalled Workflow.
•Learn What Key Components Make A Track Sound Great.
•Learn To Understand How The Top 1% Of Music Producers Work.