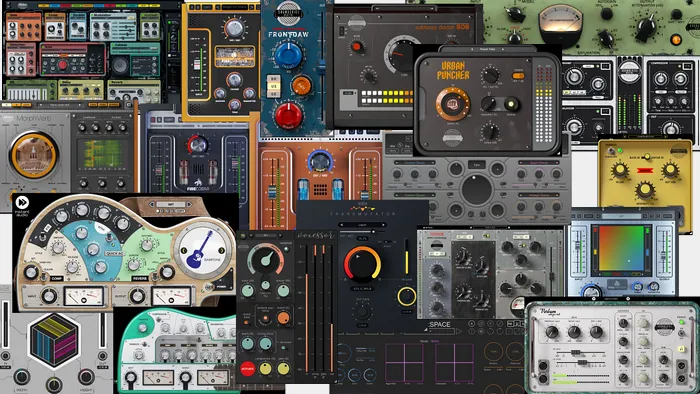 We are United-Plugins !
The word "United" in the company name represents how we come together and how we create.
This means that we are a federation of small independent development teams made up of people previously involved in the business of the music industry.
The founding triad is JMG Sound, FireSonic and SoundDevice Digital. Our team includes artists, producers and engineers. We all yearned for the freedom to create the tools we wanted to use in our studios in our projects. And we found it in creation. Our plugins may not be for the masses, but we're probably making tools for people like you.
Fire Sonic
 :
⦁ FireCharger v2.5 – Charge your sound to the maximum.
⦁ FireCobra v2.5 – intelligent sound enhancement.
⦁ FireMaster v2.5 – Cherry on the cake.
⦁ FirePresser v2.5 – One to rule them all.
Instant Audio
 :
⦁ QuickAG v3.0 – bigger, better, brighter, smoother.
⦁ QuickBass v2.0 – it's all about the bass (and some treble)
JMG Sound
 :
⦁ Expanse 3D v1.5 – The sound is deeper, wider and bigger!
⦁ Hyperspace v2.5 – A shortcut to a new universe.
⦁ Mirror v1.5 – Reflections of the future.
⦁ Nanopulse v1.0 – Attack power.
⦁ Orbitron v1.5 – a revolution in modulation.
⦁ Transmutator v2.5 – The art of crossfading.
Murmasa
 :
⦁ Bassment v1.3 – Base – bass.
⦁ Electrum v1.7 – Mother of all guitar amplifiers.
⦁ MorphVerb v2.5 – I am every reverb.
Soundevice Digital
 :
⦁ Autoformer v2.5 – Color, polish, finish.
⦁ DIFIX v2.5 – Fix the imperfection of the recording equipment.
⦁ FrontDAW v2.5 – turn your DAW mixer into an analog console.
⦁ Royal Compressor v2.5 – The return of the king.
⦁ Subbass Doctor 808 v2.5 – Treat your subbass right.
⦁ TrapTune v1.0 – Automatic tuner for Trap and more.
⦁ UniChannel v1.5 – Inspiration in diversity.
⦁ Urban Puncher v1.5 – Energize your loops.
⦁ Verbum v2.5 – Beauty in chaos.
⦁ Voxessor v2.0 – Let your voice be heard.