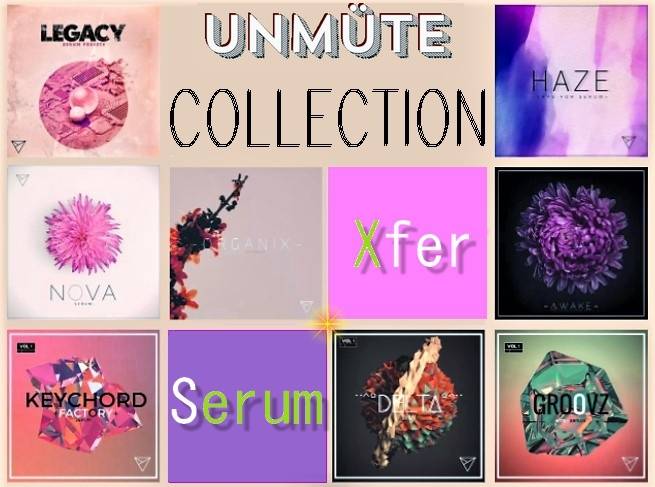 A selection of great presets to unleash your creativity in making music.
The package included (All names are clickable, with a transition to offsite):
LEGACY : We've put together our most versatile presets, defined by an equal number of colors and effects, to suit any genre or composition (soul, hip-hop, lo-fi, funk, synthwave, futuristic bass, and more).
HAZE : This new collection covers a wide range of contemporary musical styles. Everything you hear in the demo is done with a single note. All you have to do is press one key on your keyboard and automate the macro. As simple as that.
NOVA : This brand new collection of presets covers a wide range of sounds using Serum's endless possibilities. This true "Swiss knife" of the manufacturer provides you with organs, keyboards, basses, arpeggios, leads, chords, brass and more. Everything is here for every taste!
ORGANIX: Have you ever dreamed of a unique instrument for creating real sounds and tones? Just imagine violins, brass, keyboards or even flutes amplified by the most versatile synthesizer.
AWAKE : Charged with the bass power of the future, mixed with the sensibility and groove of a luscious soul track, our newest set offers you the perfect cocktail to add something special to your own rhythm.
KEYCHORD FACTORY VOL.1 : This extensive collection of 65 presets for Xfer Serum suits many and varied styles such as Future Bass, Soul, Funk, Hip-hop, Future House or Trap.
DELTA VOL.1 : Based on the concept and style of Future Bass, this comprehensive new pack offers a wide range of presets for Serum.
GROOVZ VOL.1: From Deep/House to Soul/Funk or even Future Bass Grooves, find your personality to play with.
FUTURE MUSIC VOL.1 : This complete collection is a must have for Future Bass, Dubstep, Future House or Trap Producer.
CHORDZ : From Future Bass to Soul, Jazz or even Funk with the same design requirements, this pack is a must if you are looking for unique and inspiring content.
Legacy : 82 Xfer serum presets covering a wide range of sounds (organs, electric keys, leads, vintage and retro synths, plucks or even lo-fi keys.
Haze : 76 Xfer serum presets (Arpeggiators)
Nova : 100 presets for Xfer serums (organs, arpeggios, winds, leads, 808Bass, chords, violins, flutes and more.
Organix : 4 basses, 10 Brass, 5 epic horns, 10 guitars, 5 hybrid synths, 7 keys, 6 multi-sounds, 4 orchestral hits, 4 percent, 9 tweaks, 11 fiddles, 13 vox, 12 winds
Awake : 8 arpeggios, 43 basses, 21 chords/synths, 7 keys, 3 plucks, 3 pads, 4 solos, 6 synths, 2 effects
Keychord Factory Vol.1: 18 keys, 12 plucks, 1 sequence, 34 synths/chords.
Delta Vol.1 : April 4, 26 basses, 34 chords, 12 keys, 2 Fx, 5 leads, 1 pad, 8 Plus, 2 synths.
Groovz Vol.1 : 1 Arp, 24 Bass, 2 Keys, 4 Leads, 1 Pad, 6 Plucks, 6 Synths, 20 Synths/Chords, 7 Vocals/Chops.
Future Music Vol.1 : 27 Basses, 36 Chords, 10 Fx, 10 Leads, 1 Pluk, 5 Synths, 10 Synth Sequences, 11 Chops Voices.
Chordz : 51 chords/synths, 15 keys, 7 plucks.
How to install?
Copy and paste the folders to these locations
Windows
Presets
 : Documents/Xfer/Serum Presets/Presets/
MAC
 :
Presets
 : Library/Audio/Presets/Xfer Records/Serum Presets/Presets