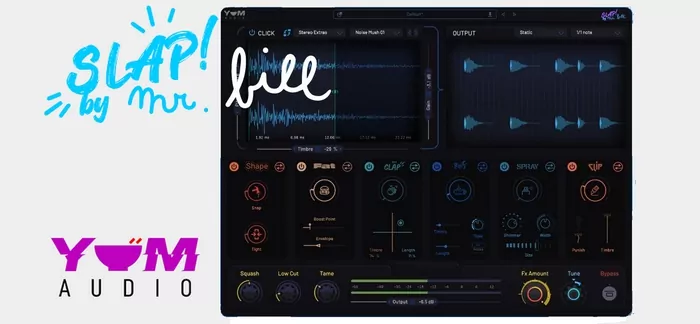 A simple yet powerful target !
Slap combines a unique click replacement tool with a multi-effects box. Each of the included effects is carefully crafted to create snares and kicks that hit and add punch to your tracks.
Slap is a collaboration between Mr. Bill and Yum Audio to bring Mr. Bill's special production methods and sounds to you.
Add instant fat and slap to any drum sound.
Signature sounds and handmade presets by Mr. Bill.
A unique Click module that can replace or superimpose any transient.
6 intuitive effect modules, each of which can be considered a separate plug-in:
Clap module, which adds synthesized noise clap to any sound.
Powerful transition shaping with the Shape module.
Fat module for easily adding fat and punch with multi-band compression and EQ.
Spray module for adding lush reverbs and sustains to your drum sounds.
Clipper with Punish and Timbre control.
Sub module to add an amazing subwoofer to any source.
Routing all effect modules with intuitive drag and drop actions.
Tone section to glue everything together and precisely control bass and treble.
A global Tune control to change every process within the plugin and allows you to easily re-tune the entire drum.
Global FX Amount knob to simultaneously scale the amount of processing of all FX modules.
Dot waveform display with multiple visualization modes.
Instructions are included with distribution.