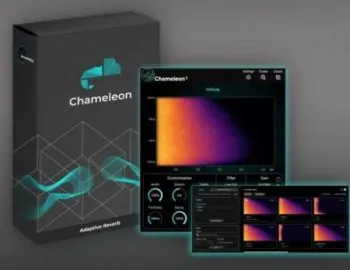 Chameleon is an intelligent audio plug-in that uses artificial neural networks to evaluate and model the exact reverb content of any source recording. You can create a reverb profile in seconds and easily apply it to your studio recordings.
– create an unlimited number of different unique reverbs with one click
– automatic parameterization of original/processed signal mixing, stereo width and pre-delay
– ideal tool for realistic ADR (automated dialogue replacement) matching and sound recordings
– useful for creative sound design or music production
– extract natural room impulse response from any recording and export as wav file
Using the latest machine learning techniques, Chameleon can quickly create an unlimited number of different reverbs. The temporal and spectral characteristics are captured and then can be accurately reproduced in a realistic manner.
If you want to stick with existing reverb tools, you can easily combine them with Chameleon. Simply export the room profile's impulse response as a wav file and load it with your choice of convolutional reverb plugin.
During the development phase, Chameleon listened to over 30,000 different example rooms. Given this information, it is now able to adapt and accurately simulate any possible room reverb.