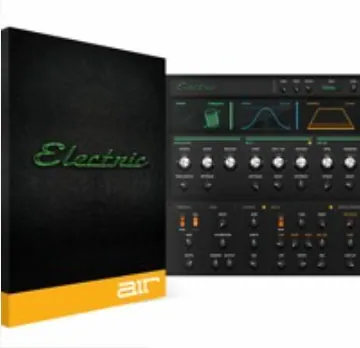 Electric – a new standard of electric piano
The AIR Electric plugin is a complete collection of electric pianos. Choose from a wide range of legendary keyboards such as Rhodes, Wurlitzers, FM keyboards and more, developed over decades of research. Electric proudly builds on the legacy of excellence of the AIR Velvet, considered the reference electronic piano instrument for Avids Protools, with a new set of powerful features and sounds.
Dedicated Pickup, Envelope, Bell, and Noise parameter sections provide incredible flexibility in adjusting the tone of an electric piano sound.
presets
Electric contains over 80 presets in a factory library carefully selected to provide you with a complete collection. The library was created by the same legendary team that brought you products like DB-33 and Velvet.
Electric can reproduce the very realistic sounds of a classic electric piano with excellent fidelity and dynamic response using the patented Dynamic Modeling, a unique combination of optimized sampling and modeling techniques. Developed with over 20 years of experience in the field.
AIR Effects
AIR Electric has built-in world-class audio effects processing to enhance your sounds while creating quickly. Choose from Tremolo, Tube Distortion, Chorus, Delay and Spring Reverb, each with a dedicated section for customizing any setting. The Effects panel is intuitively displayed on every Electric page, allowing you to enable or disable each of the eight effects at any time.
The AIR Creative FX Collection has been part of Pro Tools® since version 8 and is considered the reference effects set by some of the world's most respected audio professionals. AIR FX has been used in many of the best films, games and music projects of the last decade. Each plugin has been professionally designed with ease of use in mind and delivers professional results every time.
Desktop Player
The plug-in package includes our Desktop Player application. Fire up the desktop version of Hype and connect your favorite Midi controller via USB or Bluetooth and you're ready to perform live. Our interface has been designed with ease of use and live performance in mind for maximum playability.
Cross Compatibility
Purchasing Electric as a Plugin provides cross-compatibility with renowned Akai Professionals standalone music production systems, including the MPC and FORCE series products. Now you can connect your favorite MPC instruments to any DAW.
Windows 7+ x64
Intel Core i5, i7, 2.3GHz processor or higher
4GB RAM (8GB's recommended)
1 GB free disc space
ASIO sound driver