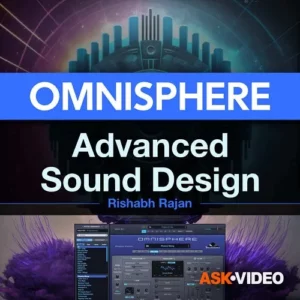 Are you using Spectrasonics Omnisphere and only taking advantage of its presets? Don't miss out on the wealth of creative possibilities! Watch this course to learn how to use this powerful instrument to its fullest with sound designer Rishabh Rajan.
Are you tired of scrolling through patches that don't inspire you? Master Spectrasonics Omnisphere with trainer, producer and sound designer Rishabh Rajan, and take your sound design skills to the next level! This online course will give you a deep understanding of Omnisphere and all its features. You'll learn to create unique, inspiring sounds that express your own creative style.
The course begins with an introduction to Omnisphere, covering the basics of this powerful, but intimidating instrument. Rishabh then dives deep into the synth engine, exploring signal flow, effects, and envelopes. Next, you learn all about LFOs… shapes, modulating LFOs, polyphonic LFOs and more. The course culminates in the final section, where you'll apply your newfound knowledge to create a variety of sounds, from plucks, electric pianos, organs, sine plucks, ambient guitars, lush pads, basses, arps, and even granular patches.
So, what are you waiting for? Go beyond the presets… Watch this course now and unlock the power of Omnisphere!
Rishabh Rajan
• BA in Film Scoring, Berklee College of Music
• M.Sc. in Professional Practices, Middlesex University
"Rishabh Rajan is an award winning composer, producer, songwriter, synthesist, sound designer and Logic Pro expert currently living and teaching in New York…"
Rishabh Rajan has been a professional music educator since 2008 with teaching experience in India, Malaysia & the United States. Besides producing over 20 courses for macProVideo & AskVideo, Rishabh has published 2 ebooks on sound design which are available on the Apple iBookstore.
Rishabh is a certified trainer for Pro Tools, Logic Pro & Ableton Live. He has worked as a sound designer for companies including Crypto Cipher, Bela D Media & Twisted Tools and has experience with writing music for indie films, documentaries & TV Commercials. He also does remixes and live mashups under the monicker code:MONO.
For our Ableton we chose Certified Trainer, Rishabh Rajan, to create courses for our websites and our partner sites. He is an independent trainer who has completed the Ableton Live Certification process and is officially recognized by Ableton and us for his accomplishment. He is not an Ableton employee.
Content
Section 1: Introduction
1. Welcome (0m 46s)
Section 2: Synth Details
2. Synth Overview (5m 59s)
3. Signal Flow for Effects (5m 23s)
4. Normal Vs Shared (1m 40s)
Section 3: Envelopes
5. Envelope Editing (6m 13s)
6. Envelope Shapes (4m 46s)
7. Envelope Chaos (3m 7s)
8. Polyphonic Envelope (2m 21s)
Section 4: LFOs
9. LFO Basics (5m 39s)
10. Polyphonic LFOs 91m 53s)
11. Modulating LFOs (2m 44s)
Section 5: Sound Design Examples
12. Pluck (6m 35s)
13. Electric Piano 96m 11s)
14. Organ (4m 22s)
15. Sine Pluck 92m 56s)
16. Guitar (7m 17s)
17. Lush Pad (6m 48s)
18. Bass (5m 27s)
19. Arp (8m 18s)
20. Granular Patch (6m 56s)