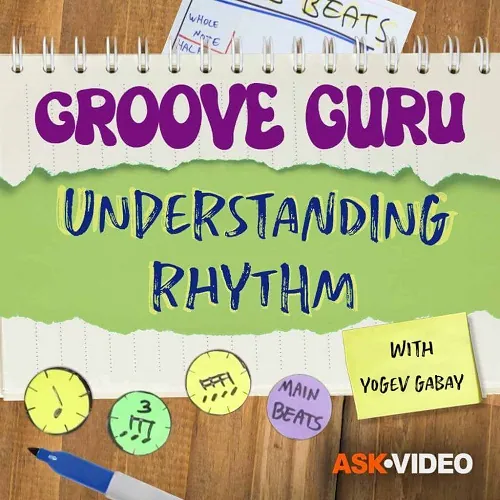 What time is it? It's time to learn rhythm in this entertaining course with the Groove Guru himself, Yogev Gabay!
Rhythm is a profound musical topic that extends far beyond common perception. It's the heartbeat and essence of music. In this course, renowned instructor and drummer Yogev Gabay takes a unique approach to teaching rhythm, incorporating visual elements for a very entertaining learning journey. He expertly demystifies the secrets of rhythm, unraveling its intricate components while cultivating your inner active listening skills.
Yogev begins by exploring the pulsating core of rhythm. With Yogev's captivating visuals and engaging explanations, you'll gain an in-depth understanding of the pulse, its profound influence on rhythm, and its role in dictating various rhythmic aspects. Delving further, he reveals the backbone of rhythmic structure: meter. You'll explore the relationship between main beats and sub beats, unraveling their dynamic interplay through Yogev's insightful explanations and practical exercises. Through Yogev's visually immersive tutorials, you'll train your ear to recognize different meters using a real finger drumming kit, solidifying your understanding of rhythm's rhythmic framework.
As you venture deeper into the realm of rhythm, you will unlock the expressive potential of accents. Yogev draws a compelling connection between music and mathematics, revealing how accents can infuse rigidity with life and transform rhythm into an awe-inspiring experience. You'll also explore the art of sliding notes off the grid, creating irresistible swings and grooves that captivate listeners.
In the realm of tempo and silence, Yogev presents a new layer of complexity. You'll grasp the concept of tempo, the vital element that sets the speed of a musical piece. Yogev's visual demonstrations illustrate how time signatures can sound the same but look different, depending on the tempo. Additionally, you'll discover the significance of rests, the profound silences that shape the very fabric of a musical composition.
Let's master the intricacies of rhythm with your Groove Guru, Yogev Gabay. After watching this course, rhythm will no longer be a mystery, but a wellspring of creativity and musicality.
Yogev Gabay
"Born and raised in Israel, Yogev Gabay has been an in demand session player for more than ten years."
Playing in a wide range of musical styles, Yogev has toured and recorded with numerous bands all over the world. Yogev has launched his "Time Consuming" YouTube series in the Spring of 2020, which got overwhelmingly positive reviews, and has been invited to conduct master classes about rhythm perception and polyrhythms all over the world. Yogev is proudly endorsed by Meinl cymbals.
We look forward to lots of rhythmic training from Yogev!
Соntent
Section 1: Pulse
1. Intro (2m 18s)
2. What Time is It? (1m 52s)
3. Pulse (2m 41s)
4. Meter (4m 8s)
Section 2: Meter and Subdivision
5. Main Beats (The BIG Numbers) (2m 37s)
6. Examples (3m 27s)
7. Sub beats (The Small Numbers) (3m 26s)
8. Sub beats (More Small Numbers) (3m 59s)
9. Examples (4m 10s)
10. Let's Recap (2m 45s)
11. Those drunk beats the kidz like (3m 6s)
12. Those drunk beats the producers like (1m 40s)
Section 3: Tempo and Silence
13. Tempo (2m 36s)
14. Rushing or Dragging? (5m 22s)
15. Rests – "Silence Is Also Music" (3m 14s)
Section 4: Recap
16. Everything, Everywhere, All At Once (7m 40s)
17. Bye! Go make Music! (1m 5s)