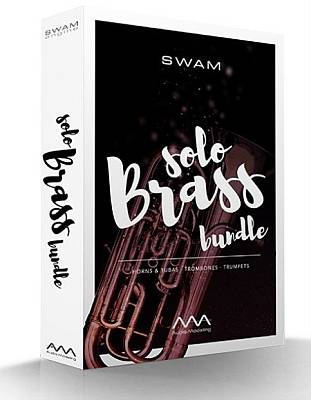 SWAM Solo Brass is a collection of solo brass instruments conceived and designed by Stefano Lucato and the entire Audio Modeling team. These instruments are based on physical modeling technology and do not use any samples.
The SWAM Solo Brass collection includes fifteen instruments grouped by product families: SWAM trumpets, SWAM trombones, and SWAM horns and tubas.
SWAM Solo Brass allows composers, musicians and performers to play – both in the recording studio and during live performances – the most expressive and realistic virtual solo wind instruments ever conceived with real-time controllable virtual instruments with the same natural reaction as their traditional counterparts.
NEW
– new installer icons
– Windows Installers: new default paths for plug-ins (VST2 plug-ins: "C:\Program Files\VSTPlugins" – VST3 plug-ins: "C:\Program Files\Common Files\VST3")
– added new factory presets
– added "Release Wind Controller Mode" parameter
– improved playability and reactivity for Wind Controllers
– improved MIDI input selection view, especially with several ports listed
– improved Trumpet C and Piccolo Trumpet sound presets
– added Instrument and MIDI tabs in advanced group
– added OpenGL render option in settings page. Possibility to switch GUI render mode between GPU and CPU (Desktop only)
– exit from main GUI mapping mode after 50 seconds, prevent exiting from mapping mode on internal pages and Controller Mapping page
– restyle of internal pages: better look & feel for tabbed pages
– AUv3 plug-ins viewport improvements (iPad)
FIX
– installers: fixed a typo
– fixed corrupted first note-on at startup or after All Notes Off or Panic()
– fixed some skipped note-on when Breath Controller mode is ON
– note stop playing when main opening GUI (iPad)
– MAQAM: fixed micro tuning status
– fixed and updated NKS parameters
– Panic: set also Sustain to OFF
– Control Surface: save X/Y parameters status (iPad)
– fixed Keyboard ModWheel + AT MIDI preset
KNOWN ISSUES -Ableton
Live: automated parameters also assigned to a MIDI CC are added to Ableton's Undo list. This behavior does not happen with other DAWs