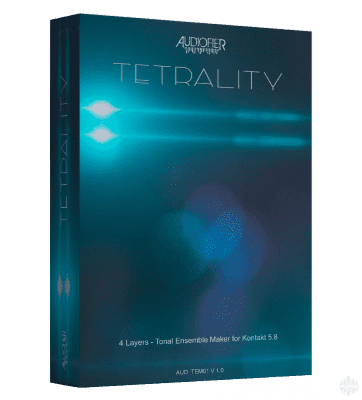 Contact version: 5.8.1+
TETRALITY creates incredible combinations of acoustic instrument patterns that follow your chords. With 20 organic multisampled instruments and 4 layers, TETRALITY provides an endless supply of great arpeggiations and sequences to spice up your tracks.
Discover the amazing possibilities of TETRALITY
– TETRALITY has four sound layers, 20 instruments per layer, individual polyrhythmic sequencer and mapping options for each layer.
– The divisi function in TETRALITY recognizes chords of up to four notes, so each of the four sequencers will play a separate melody or phrase without doubling the notes of other instruments.
– TETRALITY's extensive randomization capabilities let you automatically create beautiful arrangements that work without clashing notes, with rhythms, phrases and patterns that have musical meaning.
– TETRALITY instruments are specially selected to create elegant ensembles and unique soundscapes.
– TETRALITY can store up to eight master scenes that can be recalled on the fly during performance: each scene can include completely different instruments, mappings, sequences, speeds, scales, mixer settings and much more.
– TETRALITY instruments can be positioned spatially, like on stage, and can also be rejected as needed.
– TETRALITY can improvise at different levels of variation, so sequences are never boring and repetitive. It can also add groups of notes, which we call "ornaments," to spice up the arrangement.
The snapshot folder (which is located inside the "Put This in the correct snapshots path" folder) must be placed where you have the snapshots for the contact libraries.