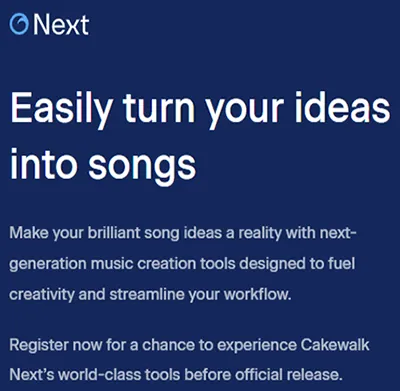 Overview of Cakewalk Next: Cakewalk Next is the latest addition to the Cakewalk family, offering both simplicity and power to creators at all stages of music production.
Features of Cakewalk Next:
The distribution includes the most recent update file for version 1.0.1.013.
Simplifies the music production process to help creators turn their song ideas into reality.
Information about Version 1.0.1.013 (September 21, 2023):
Beta version 1.0.1.013
Changes in file extensions:

*.cnp (formerly *.bxp) for project files
*.cnt (formerly *.bxt) for project templates
*.cnk (formerly *.bxr) for track templates

Automatic renaming of files in default project and template directories when the program is run. Manual renaming required for files in other locations.