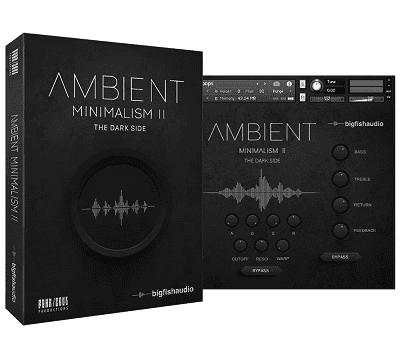 Big Fish Audio and Funk/Soul Productions are proud to present you Ambient Minimalism 2: The Dark Side; a darker counterpart to the beautiful virtual instrument Ambient Minimalism.

Requires NI Kontakt Player or Kontakt FULL v5.8.1 and higher!
---
---
Ambient Minimalism 2 is a loop and sample-based virtual instrument that can be used to quickly and easily create mysterious and unsettling ambient soundscapes, backing tracks, and cinematic cues.
Each instrument patch in Ambient Minimalism 2 contains dozens of loops and one-shots, giving you a wide variety of musical elements and motifs to work with. All instrument patches were recorded in the same key, or designed to work with other dissonant material, so you can mix and match any patches and easily achieve highly musical results.
This library features eleven multi-sampled instrument patches including all sorts of dark and creepy pianos, Upright bass, wurlitzer, detuned glass, ominous horns, and others.
Additionally, a set of twelve key-switches (colored red) can be used to change the key of any patch or musical element (loop, pad, etc), allowing you to play in any key and create chord progressions or modulations with the touch of a finger.
There are forty-four patches included and hundreds of loops, samples, and one-shots covering a wide range of sounds. The patches are organized into four separate categories: Tonal, Experimental, Melodic, and Rhythmic. In total there is nearly 6GB of uncompressed WAV data. Lastly, we've created thirty-six multi patches for you to discover interesting and haunting sound combinations.
Whether you're a professional composer or producer on a tight deadline, or a beginner with little or no musical training, you'll find that Ambient Minimalism 2 is a fast and easy way to create great-sounding ambient tracks for your productions.
The Patches
Ambient Minimalism 2 features 44 different complementary patches (nearly 6 GB of uncompressed wav data), divided into four categories:
KOMPLETE KONTROL & MASCHINE INTEGRATION
Ambient Minimalism 2 has been designed for seamless integration with the Komplete Kontrol and Maschine, offering you a unique hands-on experience. Easily manipulate the interface using the controls of all NKS compatible hardware.
– 44 unique and complementary patches including 11 chromatic instruments
– Over 2,527 loops, phrases, one-shots, and samples that fit together seamlessly
– 36 Multis for quick and unique sound combinations
– Quickly change the key on the fly to work in any production and create custom chord progressions