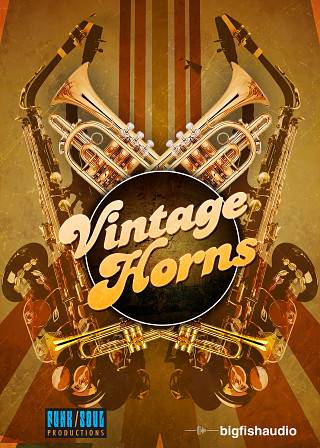 Vintage Horns is a virtual horn section instrument that gives you everything you need to emulate the classic horn section sounds of R&B, Soul and Funk bands from the 60s and 70s. Available for Kontakt Player 5.
As with its sister product Vintage VI, Vintage Horns' goal was not to create a shiny, perfect-sounding virtual instrument. Instead, we tried to reflect how horn sounds sounded back in the 60s and 70s, including the minor flaws that added character to these sections and made them sound so good.

Formatted for Kontakt Player or Full 5.2.1 and above.
---
---
With Vintage Horns you can recreate the most popular horn section sounds of the '60s and '70s, including:
– The Memphis Soul horn section, which typically used a single trumpet with one tenor sax and occasionally a bari sax
– The famous horn section sound of the JBs, which featured trombone, trumpet, alto sax, tenor sax, and bari sax
– The classic big production sound of Detroit Soul
– The Philly Soul sound, with flutes and flugel horn
– And the powerful Oakland Soul sound, with bari sax , 2 tenor saxes, trombone, and two trumpet switching to flugel horns on ballads
The Vintage Horns Kontakt Player version contains nine instrument patches, each with keyswitches to control Long notes, Short notes, Stabs, Falls, and Swells. For brass and reeds, we also included Sforzando samples. Also included are sixteen multis that give you access to pre-made sections to emulate the sound of classic horn sections and a few basic sections as well. Vintage Horns features nine multi-sampled brass and wood wind instruments:
Instruments
Alto Flute
Alto Sax
Baritone Sax
Flugelhorn
Soparano Flute
Tenor Sax
Soprano Sax
Tenor Sax
Trombone
Trumpet Mute
Trumpet Open
Multis
All Brass Section
All Flute Section
All Sax Section
Big Band Section
BS&T Jazz Rock Section
Detroit Soul Big Section
Detroit Soul Small Section
JBs Section
Memphis Soul Section
Oakland Soul Ballad Section
Oakland Soul Big Section
Philly Soul Ballad Section
Philly Soul Big Section
Retro Latin Big Band Section
Soul Jazz Section #1
Soul Jazz Section #2