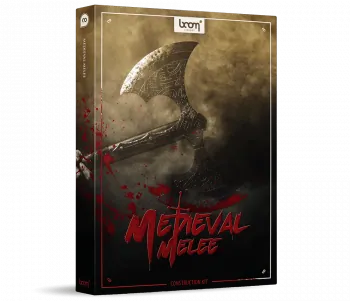 MAD SOUND OF MEDIEVAL BATTLE
From hammers crushing skulls to swords slicing limbs, the medieval period was one of the most brutal in history. MEDIEVAL MELEE captures the full clash of steel and raw, bone-crushing blood in one of our largest sound effects collections.
All sounds were recorded either in the pristine sound environment of our studios or on site in the soot and heat of our gunsmiths. Sounds include various hits, deflections, equip/unequip, finishers and more.
EXTREMELY RAW
The ringing of steel and bass beats of this collection really highlight the destructive power of medieval weapons. Only with these sounds can you really feel, if not see, all the bloody brutality of the battle.
INCREDIBLY DETAILED
We used our proven Sennheiser, Sanken CO-100K and Schoeps microphones to capture all the brutal, crushing detail of these cold iron masterpieces.
HARD CRUNCH
Medieval combat has never sounded so realistic. We traveled across Europe looking for a huge variety of weapons to smash into wood, steel and more. We even used similar materials to recreate weapon sounds, but on a much larger scale.
WHAT WE RECORDED
We searched all over Europe for the best gunsmiths we could find. When this epic journey ended, we even rummaged through the landfills and archaeological sites. All this in order to convey the sounds of medieval close combat as realistically as possible. Ranged weapons were not included, only the raw brutality of steel and iron hand weapons.
For each weapon category, we've recorded a variety of sounds, including whistle, deflection, equip/unequip, finishers, strikes, hits, and more.
Weapons:
– Flail
– Hammer
– Mace
– Wooden staff
– Dagger
– Big ax
– Small ax
– Spear
– Big sword
– Small sword
Shields:
– Wooden shield
– Metal shield